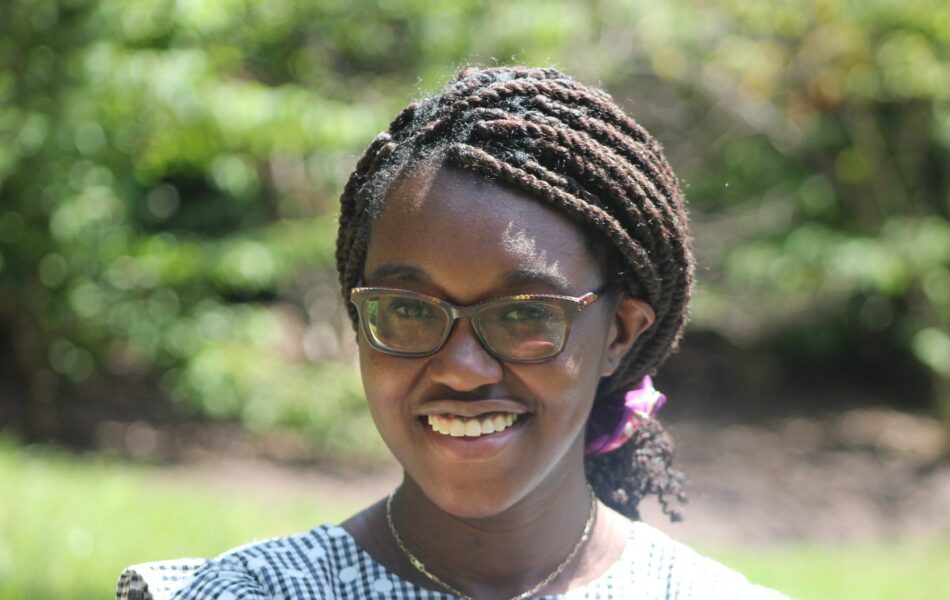 CCU News
50 States from 50 Students: Virginia
May 09, 2023 0 Comments
What is your name? 
Steffanie Abbey. 
Which state are you from? 
Virginia. 
Have you lived there your whole life? 
Yes. 
Describe your state in three words. 
President, city, and roads. 
Describe the people in your state in three words. 
Lovers, patriotic, and American. 
Are you proud of being from your home state? Why or why not? 
Yes, I am a proud Virginian. That's where the president lives. I can just show up to the president's house. 
How did growing up in your state affect your childhood? 
I lived in the city when I was little. I grew really accustomed to the metro and the city. Then we moved up to the country where I met a lot of cool people and it was  a lot quieter.  
I've learned to bear with the cold and wind.  
What kind of local traditions did your town have? 
They're big on Haymarket Day. There's a fun Haymarket parade in October. They close down the streets for the parade and there's a ton of vendors. There's a lot of history in my town.  
What was the culture like in your home state / town? 
Well, Virginia has a distinct culture but I also grew up in a different culture because my parents are both from Ghana. But outside of that, Virginian culture is very patriotic and respectful. It was interesting to see the differences between those two cultures. A big difference is the food. 
What kind of relationship did you have with your neighbors? 
We were pretty close with our neighbors. When I was little, my sister and I would hang out with the neighbors' kids. One of my neighbors taught my sister how to ride her bike. We shovel each other's yards and bake things for each other. Right when we moved in, there was a big snowstorm and our neighbors helped my dad shovel our yard.  
What was your favorite thing to do in your home state / town? 
My favorite thing to do is to go to DC because it is so close. I would go with groups of people. We'd walk around Georgetown and downtown DC. We'd go to the museums and eat.  
Are there any foods that your state is famous for? 
Apple pie and burgers.  
Is there any slang from your home state that you use frequently? 
We say the DMV: DC, Maryland, and Virginia. We say this because these three are so close together. Where I live, I can cross the bridge and go to my aunt's house in Maryland who is only like an hour away. We also say NOVA which means Northern Virginia.  
Do you have any local celebrities? 
Yeah, the President, Vice President, and the Senate. Oh, and Dwayne "the Rock" Johnson.  
We freak out if there's snow in the forecast.  
What are your favorite and least favorite parts of your home state? 
My favorite part about Virginia is that you can get from the city to the country in only about thirty minutes. I love the drives and seeing all the diverse landscapes. We have city, country, and mountains. My least favorite part is the humidity. I can't deal with the humid weather.  
What are your favorite and least favorite parts of Colorado? 
My favorite part about Colorado is the weather. I love Colorado weather. I actually just like how it's not humid. My least favorite part of Colorado is that the roads are so confusing. I love going back to VA because the roads make more sense to me.  
What drew you to CCU / Colorado? 
I really wanted to learn about science from a Christian perspective. I went to a public school all my life so I wanted to set my foundation for the rest of my career on faith. I also wanted to get away from my family to experience life as an adult.  
How has living in Colorado changed your lifestyle? 
I appreciate nature more. I enjoy the sunshine and I've learned to bear with the cold and wind.  
If someone were to visit your home state, what would you recommend they do? 
Go to DC and Georgetown. Ride the subway. Go to the Shenandoah mountains. Go to one of the big malls.  
I can just show up to the president's house. 
After graduation, do you plan on staying in Colorado, returning to your home state, or going somewhere else? 
I'm going back to Virginia, but I'll only spend a year there and maybe go to graduate school in either Virginia or Massachusetts. Eventually, I want to work in Massachusetts at the Boston's Children's Hospital. 
What are the most common stereotypes about your state and are they true? 
That people are racist – sometimes it's true. At my high school, there were a lot of rednecks and extreme people. They got their guns and camo and cowboy boots and pick up trucks. So it's true for them. Another stereotype is that we know our history – sometimes it's true. I'm great at American history. That there's always road construction – that one's true. We love seafood – that's true too. Also it's true that we freak out if there's snow in the forecast.  
What is the most common reaction you get when you tell people where you're from? 
Really? What brought you here? That's so far away. Your parents must miss you. 
What is something surprising about your state that most people don't know? 
There's a lot to do in Virginia like go to the beach. Even though I go to DC all the time, there's always something new to do. We have the mountains, which a lot of people don't know about. We also have the Luray Caverns.