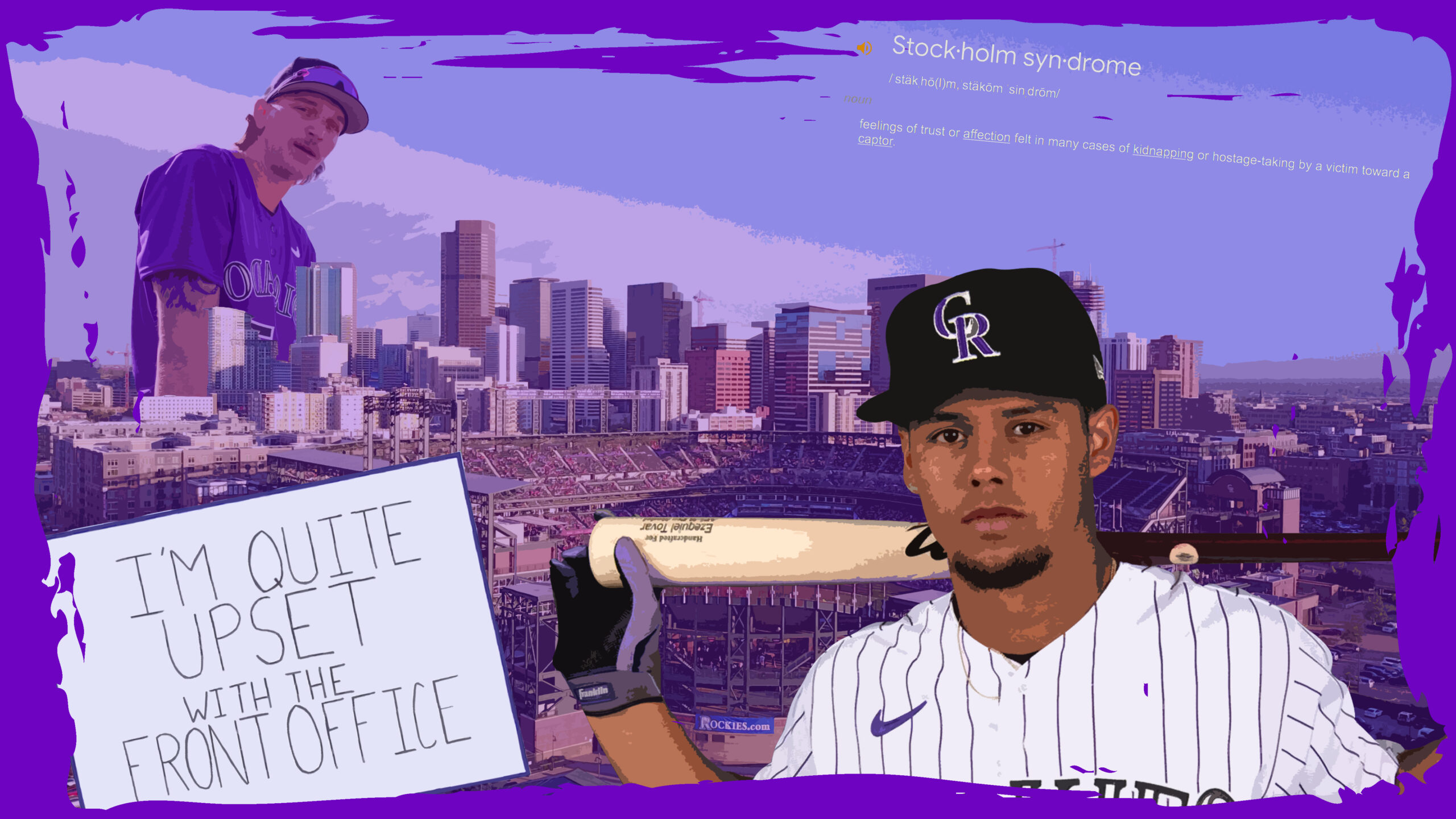 Opinion / Sports and Outdoors / World
Unfortunately, I Still Love the Rockies
Mar 13, 2023 0 Comments
I think the Rockies are my muse. Most artists have a muse, although usually their muses are not actively trying to kill them.
Spring is almost here, and along with its mud and jaundiced grass it brings another delight: baseball. I love baseball. I don't think baseball loves me back, but that doesn't stop me from adoring it in a similar fashion to those teenage nutcases who lust after serial killers. It doesn't matter how infatuated you are with them – they will still tear your guts out. 
A confession: regrettably, I am becoming interested in the upcoming Colorado Rockies season. I am well aware of my folly, but I cannot help it. In order to cure my delusion, you will have to fire up your Delorean, warp back to 2007, and prevent an impressionable young man from watching Game 163. If any of y'all are capable, this is your solemn duty. 
I know the Rockies will not be good. But being good is not necessarily the point. The Rox have a lie that they breed in you: "we're a local team. We don't matter on the national scale, and that's ok." It helps that we have no neighbors. Denver is the most isolated city in Major League Baseball, with the nearest team located 531 miles away in Kansas City. The TV rights belong to a regional network (at least for the time being). If you tune in you'll hear it on the broadcast, this philosophy of "we'll never win anything, but at least we love our boys!" This is an excellent attitude if you don't want to spend money on your baseball team, but can lead to trouble when the boys are actually good and want you to pay them. 
I have been conditioned to eat the soma. I root for individual guys to have success, team be damned. This works fine until the players I love are traded for tuppence, which can lead to fan unrest. I went into a trance after the Nolan Arenado trade and woke up 12 hours later outside Coors Field with a gasoline can. 
Our boys are all I have. I'm more likely to find a dinosaur fossil on my Grandma's back porch than the Rockies are to limp into the playoffs. Thus I cling to my boys, until they are wrestled from me and shipped off to Siberia, a.k.a. St. Louis. 
The good news is that the Rockies have a new crop of boys this year. This allows me to select a new favorite player after my old one got traded (an annual tradition). I have selected shortstop prospect Ezequiel Tovar because he has a cool name and plays good defense. I also like Zac Veen. He's been lighting up spring training. More importantly, he has a big, bushy mustache and wears Pit Vipers. With any luck one of them will be so good that we'll be able to trade them to the Cardinals for a middling relief pitcher. 
The bad news is that Brendan Rodgers, one of the only talent-adjacent players on the roster, dislocated his shoulder the other day. He's likely out for the year. Our car with no engine has lost its windshield. Sucks. It's not like we were going anywhere, but now we'll have more bugs in our teeth. 
This is why I need a dude like Tovar to cheer for. All I can do is sit on the party deck with my $40 beer and hope Tovar drives in that runner on second. Against all logic, I'm still excited. We're not talking about rationality here. We're talking about love, and unfortunately, I still love the Rockies. 
Will Klumpenhower is the best writer in America named Will Klumpenhower. For more Will Klumpenhower content, follow Will on Twitter at @wklumpenhower.