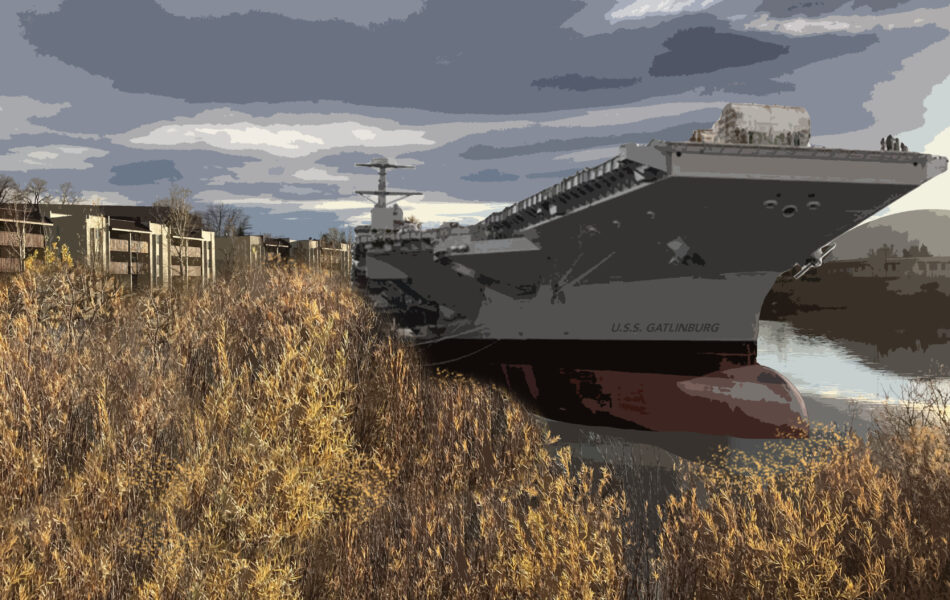 CCU News / Opinion / Sports and Outdoors / World
Aircraft Carrier Runs Aground in CCU Pond
Oct 04, 2022 0 Comments
CM – CCU students were astonished to find that an aircraft carrier had run aground in the CCU pond yesterday.
The 99 million kilogram behemoth was discovered early Tuesday morning by Ben Fowler, who was on his way to his daily morning workout. "I saw a big dark shape in the pond, and I thought, 'That's weird,'" said Fowler.
The carrier has been identified as the U.S.S. Gatlinburg, a Nimitz-class carrier capable of launching over 80 aircraft. Captain Walt Whittaker insists that nothing is amiss. "This is a normal patrolling mission," he announced via megaphone to CCU onlookers, "we are tasked with searching for enemy activity in this ocean until relieved by our admiral."
So far no such enemy activity has been discovered, although senior Lucas Emmons received two steps for attempting to swim to the grounded vessel, in defiance of CCU community guidelines.
Attempts to dislodge the ship have been unsuccessful. No fewer than 34 students' pickup trucks were enlisted in an effort to tow the craft to deeper waters. This endeavor was eventually abandoned in the afternoon due to gas shortages and balding tires.
CCU administration believe that the issue is out of their hands. "It's an problem for the US Navy, not us," said interim school President Tim McTavish, "if they're unable to retrieve it, we will gladly appropriate it as a new lecture hall." CCU has recently found itself embroiled in a stalemate with the city of Lakewood regarding its latest architecture project, The Armstrong Center, and many wonder if the Gatlinburg might present a solution.
U.S. Secretary of the Navy Carlos Del Toro did not immediately respond for requests for comment.