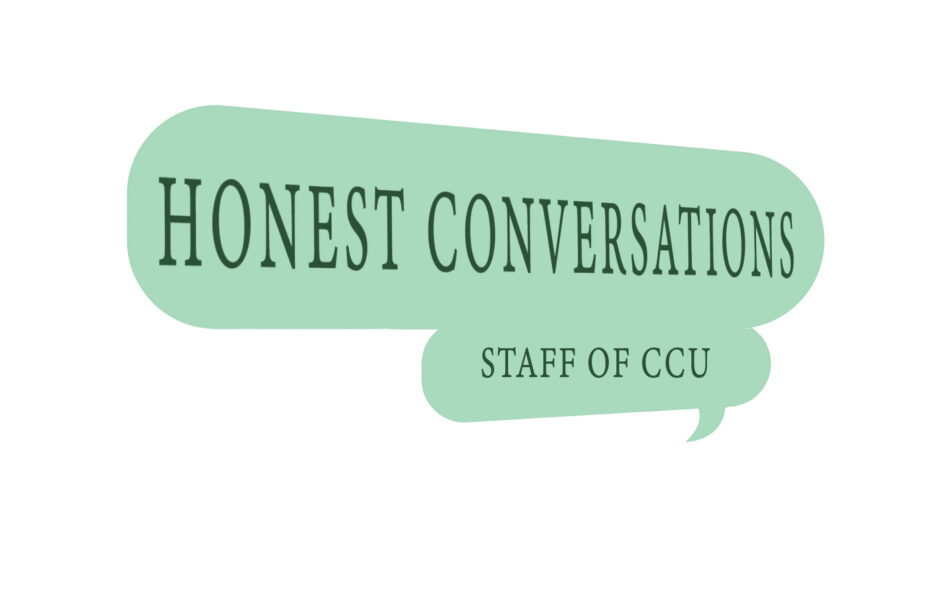 CCU News / Opinion / World
Honest Conversations: Staff of CCU
Dec 02, 2022 0 Comments
If you've ever been to Arturo's during the week, you've likely met Chris Bruner. And if you haven't met him, you're missing out. I interviewed Chris to learn more about him and his experience serving CCU students. 
Chris grew up in Texas, so southern comfort food has always had a special place in his heart. When he's not at work, some of his favorite things to cook are Thai curry, gumbo, and other comfort foods. Chris's cooking career began at Noodles & Company. He was also a chef at a bed and breakfast before his current "cooking job" with Bon Appétit. He's worked with Bon Appétit for eight years and has enjoyed every moment of it.  
His first impressions of the CCU community were positive. He discussed the students' character, explaining that "98% of the students are super respectful and very kind to one another and to the people who work here." He was especially impressed with their patience and honesty. He told me about a handful of times when he would hand the students their food, and he'd see them standing there waiting a few minutes later because they hadn't paid yet. He even said that one girl came back a day later because she remembered she forgot to pay for her meal. Chris said this wouldn't happen at the other university he worked at, and his experiences there made him appreciate CCU students even more.  
He says spending so much time on campus and working with the students opened his eyes about "the youth," mentioning how cool it is to see this next generation moving towards the right track. Chris said CCU students were tame and relaxed compared to students at the previous university he worked at. He can only name one major time when he saw students getting "rowdy" around Halloween. He described the event saying, "people were making some sort of video and they were going nuts, running around the whole campus in costumes." He goes on to say that when he first started working at CCU, he was surprised to see students willingly and consistently "go out and play sports in the quad and actually do activities," including going to sports games and school of music events. 
He can usually tell when big events take place because he'll get a long line of students who were unable to eat before the event, so they go to the only place that's still open. One of the busiest times was after a school of business and leadership event. He remembers how a line of twenty students showed up right after the event, which was ten minutes before closing. He made sure each student was taken care of, even though he had already started closing. He sympathized with college students saying, "I can understand going to bed hungry, and college kids don't need to be doing that."   
Chris has a heart for cooking and loves to share his passion with others. This is obvious in the way he interacts with his customers. Arturo's has a solid group of regulars. And Chris has many of their orders, specialized or not, memorized. He also makes an effort to remember students' specific food allergies and dietary restrictions. But, more likely than not, his efforts go unnoticed by students. So, next time you see him at Arturo's, say "Hi" and let him know how much you appreciate everything he does.