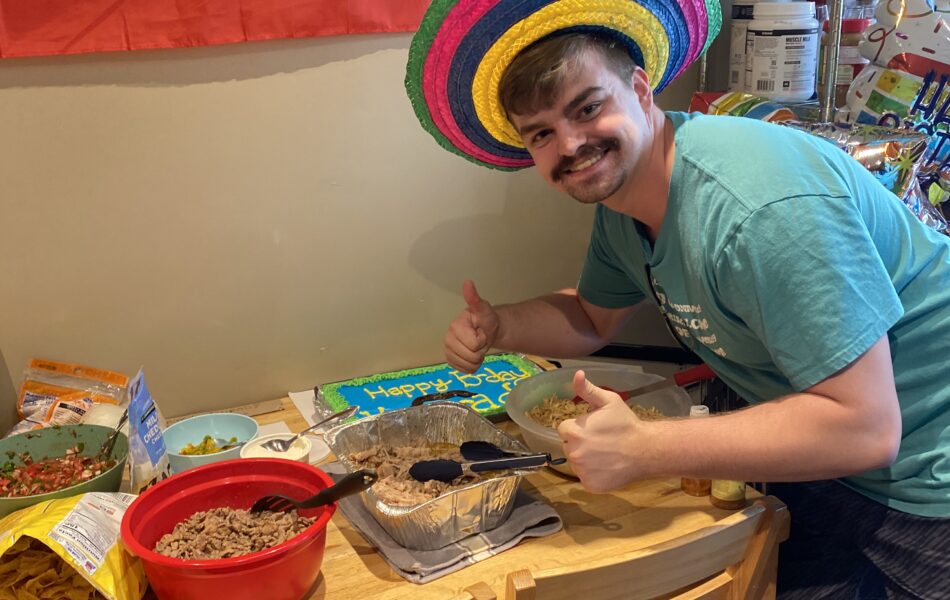 CCU News / Opinion / World
50 States for 50 Students: Missouri
Apr 26, 2023 0 Comments
What is your name?
Konrad Bradt. 
Which state are you from? 
Missouri. 
Have you lived there your whole life? 
Yes, my whole life.  
Describe your state in three words. 
Unpredictable, passionate, and humid. 
Describe the people in your state in three words. 
Loving, passionate, and interesting. 
Are you proud of being from your home state? Why or why not? 
I am proud just because I don't know very many people from Missouri at CCU. I look at Missouri like a Colorado without the mountains.   
How did growing up in your state affect your childhood? 
Growing up in Missouri made me have a respect for other states because not every place is as humid and as unpredictable as Missouri.  
Colorado people would go nuts.  
What kind of local traditions did your town have? 
Baseball was a huge deal. The opening day of the baseball season is a holiday in my town. St. Patrick's Day and Mardi Gras are also really big deals.  
What was the culture like in your home state / town? 
The culture was very neighborly. I lived in a very small suburb of St. Louis and everyone knew everyone. Everyone treated each other like neighbors.  
What kind of relationship did you have with your neighbors? 
We had really good relationships with our neighbors. My grandparents lived across the street from us. We helped each other out with yard work. Everyone is very kind, everyone knows everyone.  
What was your favorite thing to do in your home state / town? 
Go to baseball games.  
Are there any foods that your state is famous for? 
Toasted ravioli, Ted Drews ice cream parlor, gooey butter cake.  
Is there any slang from your home state that you use frequently? 
Not that I know of.  
All people from Missouri live in Misery. 
Do you have any local celebrities? 
John Ham. He acted in the new Top Gun. Jayson Tatum and Bradley Beal.  
What are your favorite and least favorite parts of your home state? 
The highways are my least favorite part. No one knows how to drive and the speed limits are so low. My favorite part is the rural parts of Missouri, the wooded areas, and the places people can farm.  
What are your favorite and least favorite parts of Colorado? 
The mountains are my favorite. The Colorado drivers are my least favorite.  
What drew you to CCU / Colorado? 
The mountains drew me. I've been coming to Colorado since I was a kid and I always wanted to come to college here.  
How has living in Colorado changed your lifestyle? 
I'm going outside a lot more than I used to. Since it's not humid here, being outside is actually fun.  
Missouri is Colorado without the mountains. 
If someone were to visit your home state, what would you recommend they do? 
They should go to St. Louis and go to the Arch. Spend the day downtown exploring. Go to a bunch of the state parks, especially Elephant Rock State Park. Colorado people would go nuts over it.  
After graduation, do you plan on staying in Colorado, returning to your home state, or going somewhere else? 
I don't know. Part of me really wants to stay here, part of me wants to go to Kansas City or Fort Worth.  
What are the most common stereotypes about your state and are they true? 
People always assume St. Louis is riddled with crime which is true – I've seen it. People say "All people from Missouri live in Misery." That's not true, most people I know love living in Missouri.  
What is the most common reaction you get when you tell people where you're from? 
They look at me and go "Oh okay." Like I've heard of Missouri but I don't know where it is. Or like they've heard of it but only heard of bad things about it.  
What is something surprising about your state that most people don't know? 
That there's actually lots of things to do in the state. There's more to do than just go to Kansas City and St. Louis. There's lots of fun things to do but you have to be willing to explore.