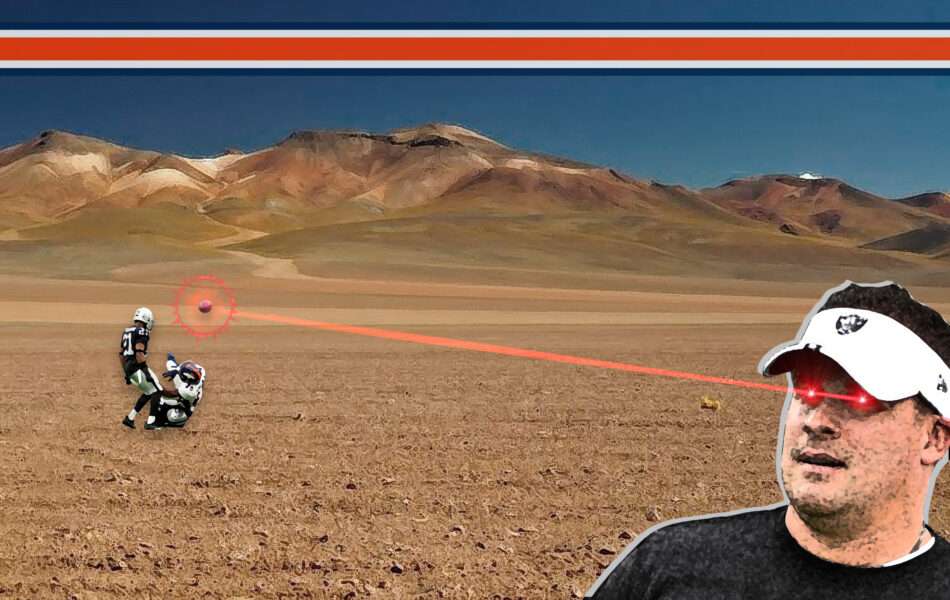 Sports and Outdoors / World
Josh McSpygate Gets Revenge
Oct 03, 2022 0 Comments
It's never a good day when you lose to that god damned black and silver team the Raiders. I'm not going to sugarcoat that. It sucks. It feels like toenails in your ice cream. But I'm not too anguished yet. 
The fact that Josh McDaniels beat us is what really stings for me. Y'all may remember this weasel pulling this same trick in 2009 as the Broncos head coach, when he beat former boss Bill Belichick in overtime. Hopefully his tenure with the Raiders will follow a similar trajectory – all downhill from there. In any case, he is a rancid little imp, unfit to wander our beautiful world. Shai-Hulud take him. 
I know the tone of the fanbase is largely negative right now (for good reason) but I'm not furious. In fact, I'm still rather optimistic. For one thing, Pat Surtain is a magician. I sometimes wonder whether he is fit to be viewed with human eyes. He held All-World receiver Davante Adams to approximately -12 yards yesterday. I haven't corroborated that with the box score, but it sure felt like it. 
Y'know who also looked good? Russell Wilson. For the first time this year, he looked like Russell Wilson. Unlike most Broncos QBs since 2015, I couldn't count all his nice throws on one hand. He accounted for three touchdowns! By himself! The offense (with the LARGE exception of the third quarter) is beginning to click. Broncos Country is not riding yet, but we may be trotting, at least. 
I imagine most of the media firestorm today is directed at Melvin Gordon in light of his disastrous second quarter fumble. It's unfair to paint him as the sole scapegoat (the run defense left a lot to be desired) but it sure is easy. He has fumbled in five straight games! Those are the kind of numbers I put up on the Escalante Middle School B Team. If the Broncos finally approve my media credential requests I will break into the locker room and put epoxy on his gloves.
(NOTE TO ALL EMPLOYEES OF THE BRONCOS MEDIA RELATIONS OFFICE WHO MIGHT BE READING THIS: I am only joking. Please give me media passes.)
Another lowlight: the penalty-less Sunday Night affair last week appears to have been an aberration. While Nate Hackett has not committed any titanic game management errors since week 2, he is still less than inspiring. This is not a disciplined outfit. Fortunately, discipline is easier to rectify than a lack of talent, and we may yet see improvement. But Sunday was a step backwards. 
But it's the NFL: you have to put it behind you. The Colts are in town on Thursday. I hope the Broncos win. I hope the offense doesn't miss Javonte Williams too much. And I hope that the Broncos Media Relations Department gives me media creds so I can cover it in person for y'all. Fingers crossed I won't need the epoxy.