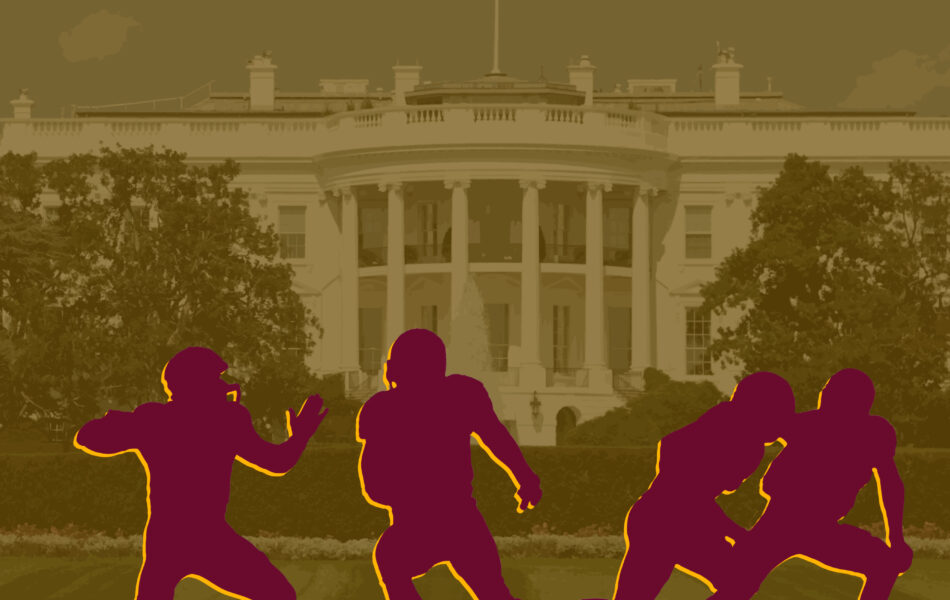 Sports and Outdoors
A Football Team of US Presidents
Nov 02, 2020 0 Comments
With Election Day upon us, former heads of state have put aside their differences and come together on the gridiron. What fun this shall be! 
Welcome everyone to my first article for this fledgling site we have dubbed CougMedia. Our dream with this site is to provide an outlet where all of CCU's most creative individuals can publish their work. For now though, there's only, like, about five creative individuals on staff here, so you're more or less stuck with me and my posse of fun and silly folks. I'm Will Klumpenhower, and my name is at the top of this article, saying that I wrote it. Apparently I'm also the "President" and "Executive Producer" of this club, but those titles are meaningless. I hold no more power over the direction of this site than anyone else on board. Someone just has to be the President. 
Speaking of Presidents, the US Presidential election is coming up in a day or two, and already citizens are engaging in rational, intelligent discourse by getting into fights with strangers on the internet. Our nation is more divided than ever. We need to divert our attention from the hot-button issues, the talking points, and refocus on that which we love most dear. 
Yes, with the advent of fall comes America's favorite sport: football. Here are some things that football is notable for: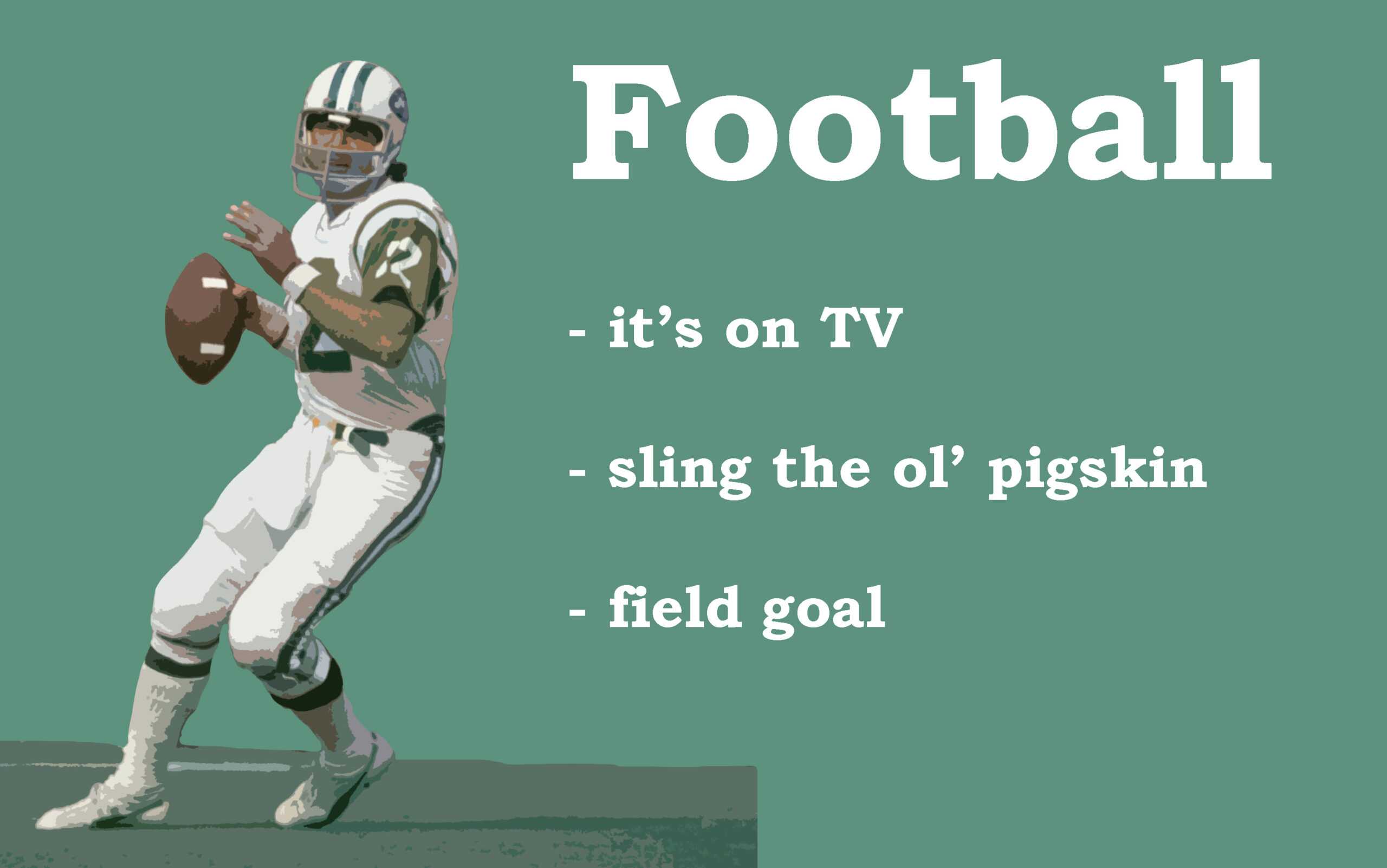 Yep, that's football. That's why we love it. We also love politics. It seems only natural that we should seek to converge them, and from that idea comes the premise of my piece. In the spirit of unbridled patriotism, I have taken it upon myself to form a football roster comprised entirely of US Presidents.
Now, this idea presents many potential problems, not least of which is the fact that all but four men who have held the Presidential office are currently deceased. You may also object that the goals of football and politics seem to be mutually exclusive. I can't argue with you on that one. In football, there is really only one method of stopping your opponent from advancing their cause, and I hardly think it would've gone over well if Mike Pence tackled Kamala Harris in the middle of the Vice Presidential debate. With this in mind, we must relegate this roster construction to the realm of fantasy, and y'all may have to bear with me in some areas. 
The first task in this project was to assign these past leaders a team to play for. The logical choice is the team that lies in the shadow of the White House already: the recently-dubbed Washington Football Team. The Team, in their transition from their former moniker, has procured hastily-produced uniforms as a placeholder for their eventual rebrand, which will take place sometime in the future. I must admit, I am not a fan of this temporary look. It's too bland for my tastes, so I took the liberty of creating my own logo for the team, which I shall use henceforth in this article: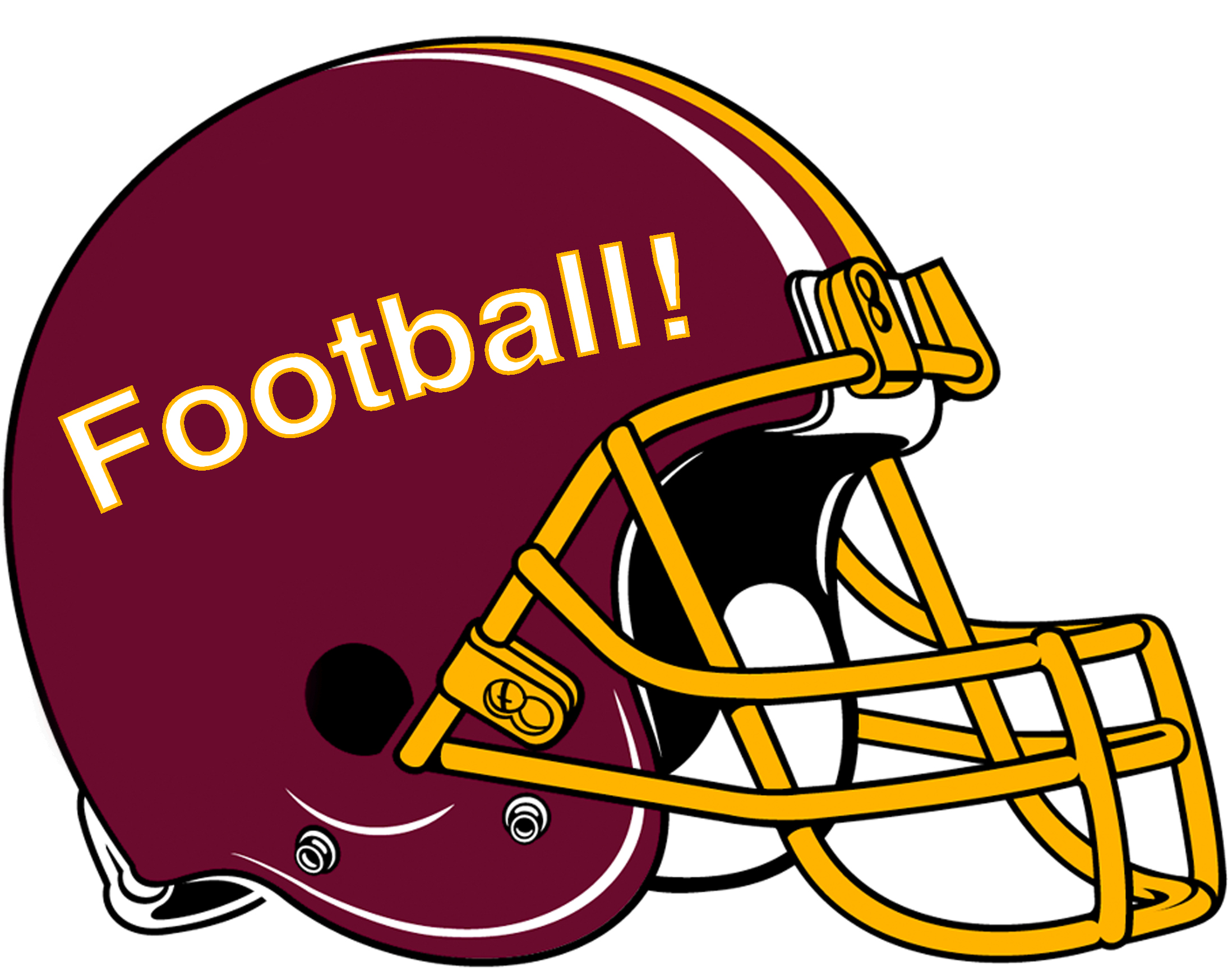 I must also stress that while the men I have selected for this team have lots of enthusiasm and a few Nobel Peace Prizes, they do not possess a great deal of football experience. Athletic ability varied wildly. There are a few fellows who, in their day, possibly could have made a professional roster. Many, however, were like Warren G. Harding, and I was at a loss as to how they might contribute. I could not in good conscience start 5'4", 122 pound James Madison at slot receiver, and ask him to run a slant route against Jamal Adams. I am a decent man, and it does not bring me pleasure to send athletically inadequate old men to the slaughter. Yet we must fill out a team, and you will find that some Presidents are more suited to their positions than others. 
With the preliminaries out of the way, I am proud to present your 2020 Washington Football Team Presidential Roster. 
Music: "After the Disco" by Broken Bells
The Offense
Quarterback: George Washington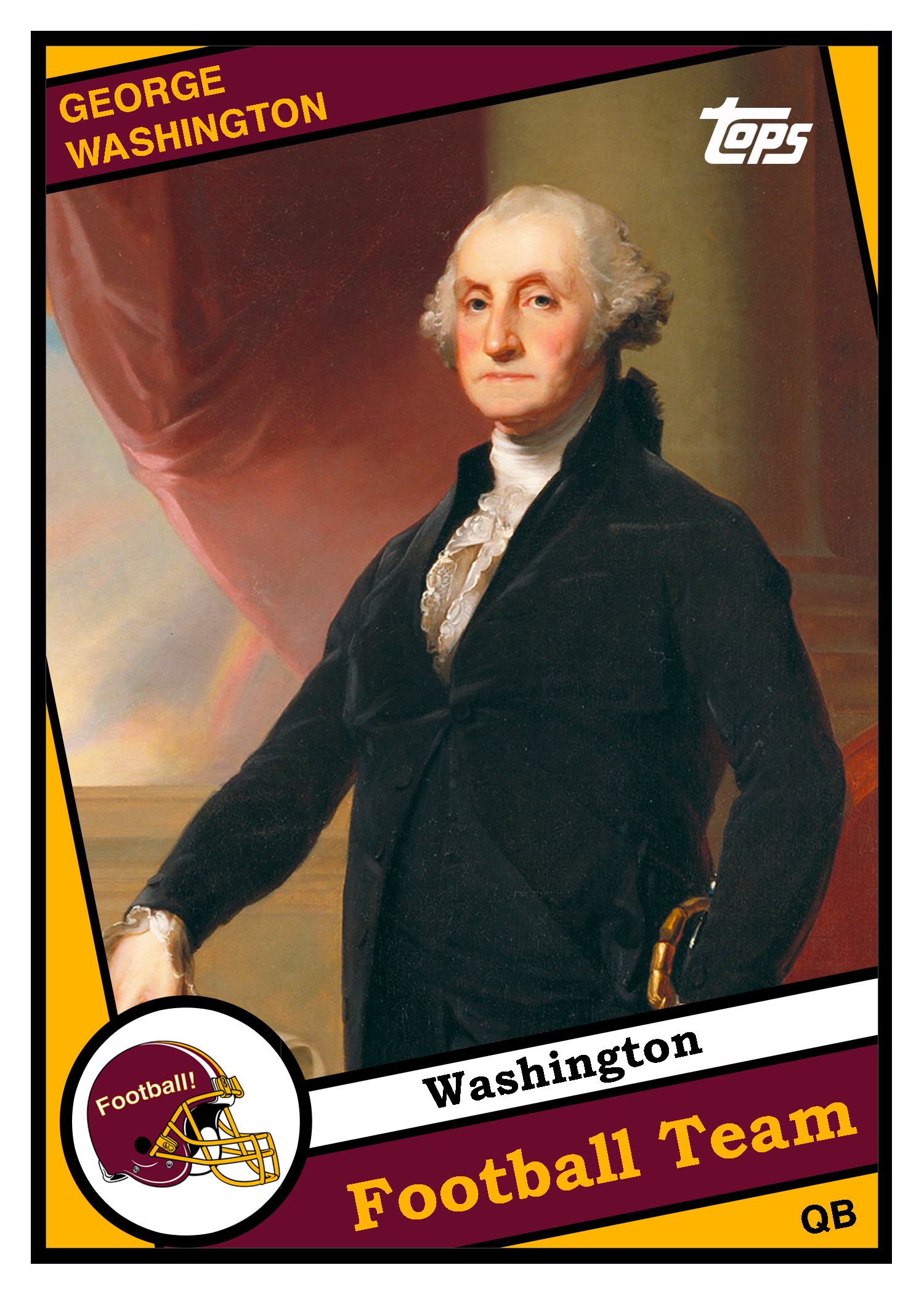 This may be the obvious pick, but that doesn't make it a bad one. Washington has prototypical height (6'2", John Elway's on the phone already) but the reason he's our signal caller is his leadership qualities. He was the only bright spot on an American side that lost most of its battles against a far superior British force. Eventually though, Washington made everyone around him better, and managed a few key victories in the 1781 season. He's a leader with character, and you need that at the quarterback position. 
Halfback: Dwight D. Eisenhower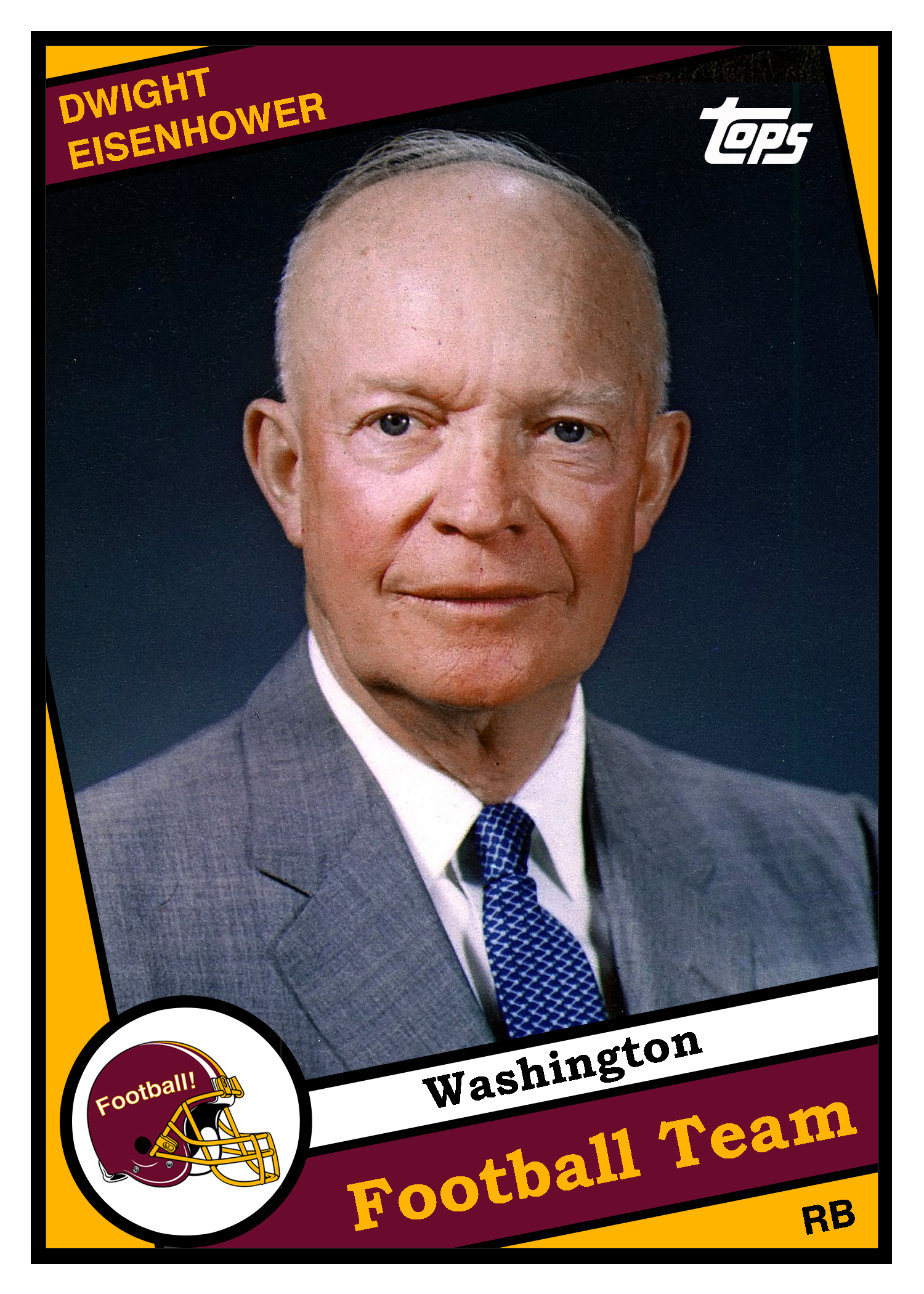 Eisenhower played halfback at West Point, giving him more football experience than just about every other player in the lineup. You may be wondering: how good was he? Was he an All-American? Well, let's have a look.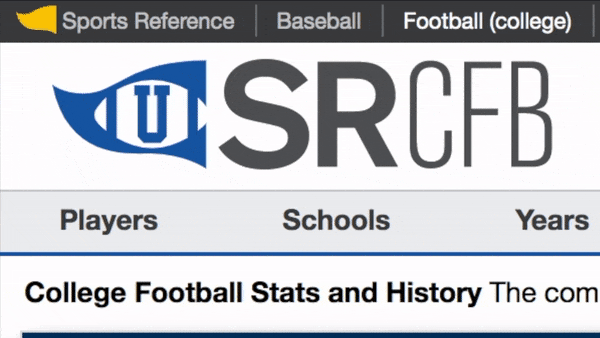 oh
well he's our starting running back ok
Wide Receiver: George H. W. Bush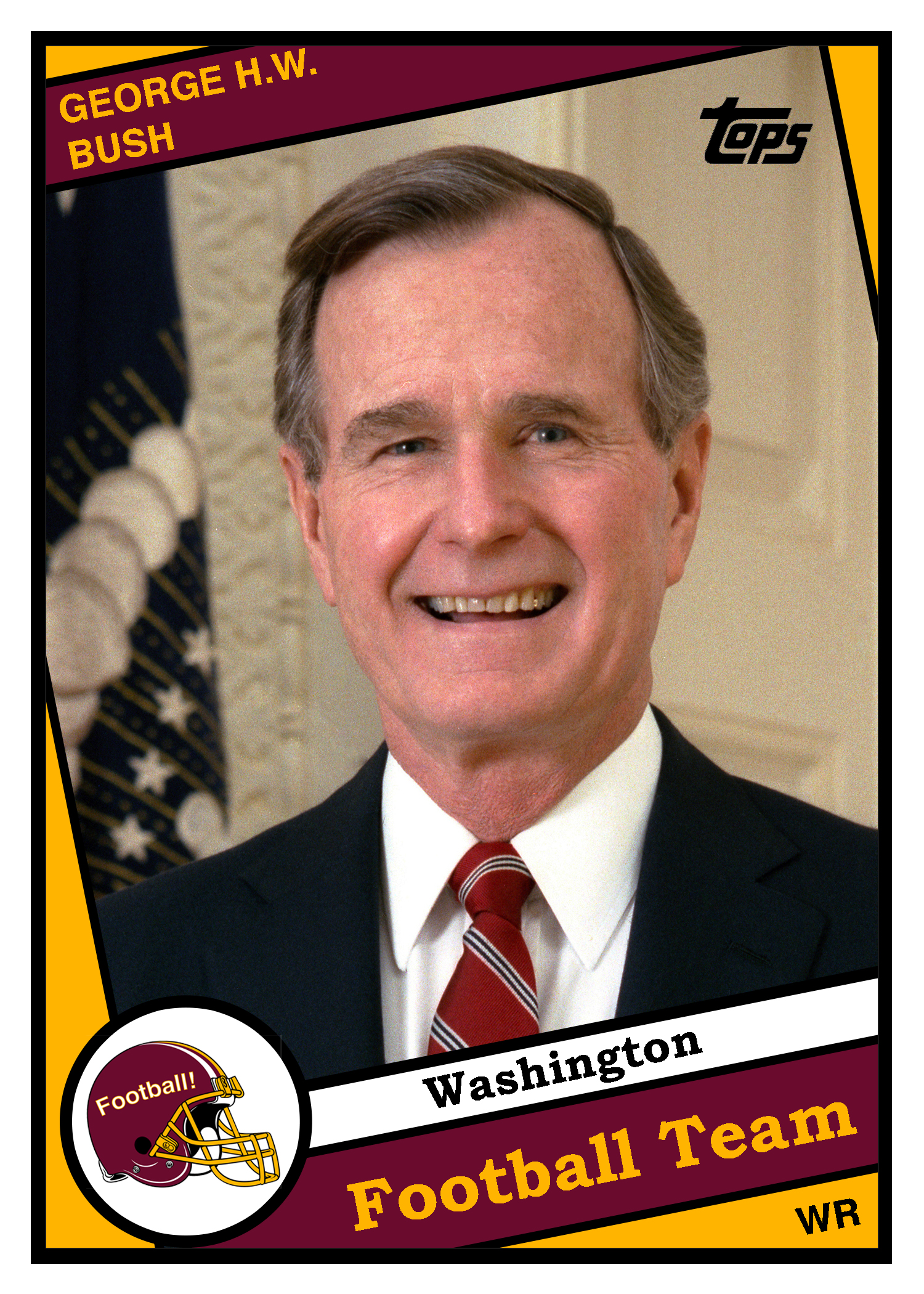 I'm reading from the Wikipedia article here, and it says that Bush Sr. was the captain for both the Phillips Academy soccer and baseball teams. That implies that he can, to a certain degree, run and catch. Hopefully both at the same time. The Presidency is not rife with athletes, y'all, so we have to take what we can get. 
Wide Receiver: Thomas Jefferson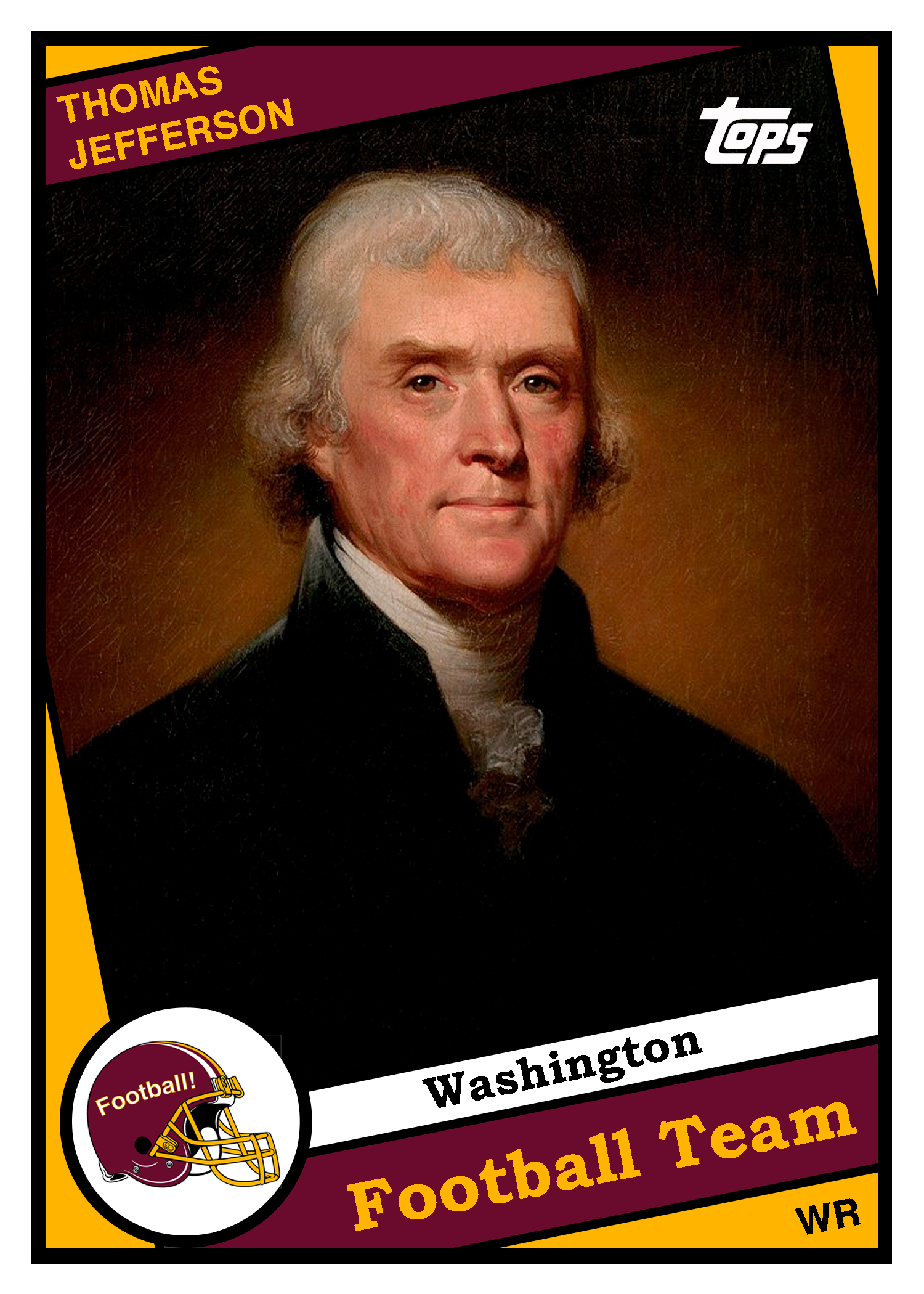 You will be shocked, but Presidential candidates do not record 40-yard dash times on the campaign trail. This leaves me with little knowledge on the speed of our former commanders-in-chief, so I'm forced to rely on other data. Jefferson possesses great length (6'2"), an uncoachable trait. Can he run routes? I don't know. Can he catch a football? Couldn't tell ya. But that, in theory, can be taught. 
We're going to score 3 points a game, aren't we?
Tight End: Abraham Lincoln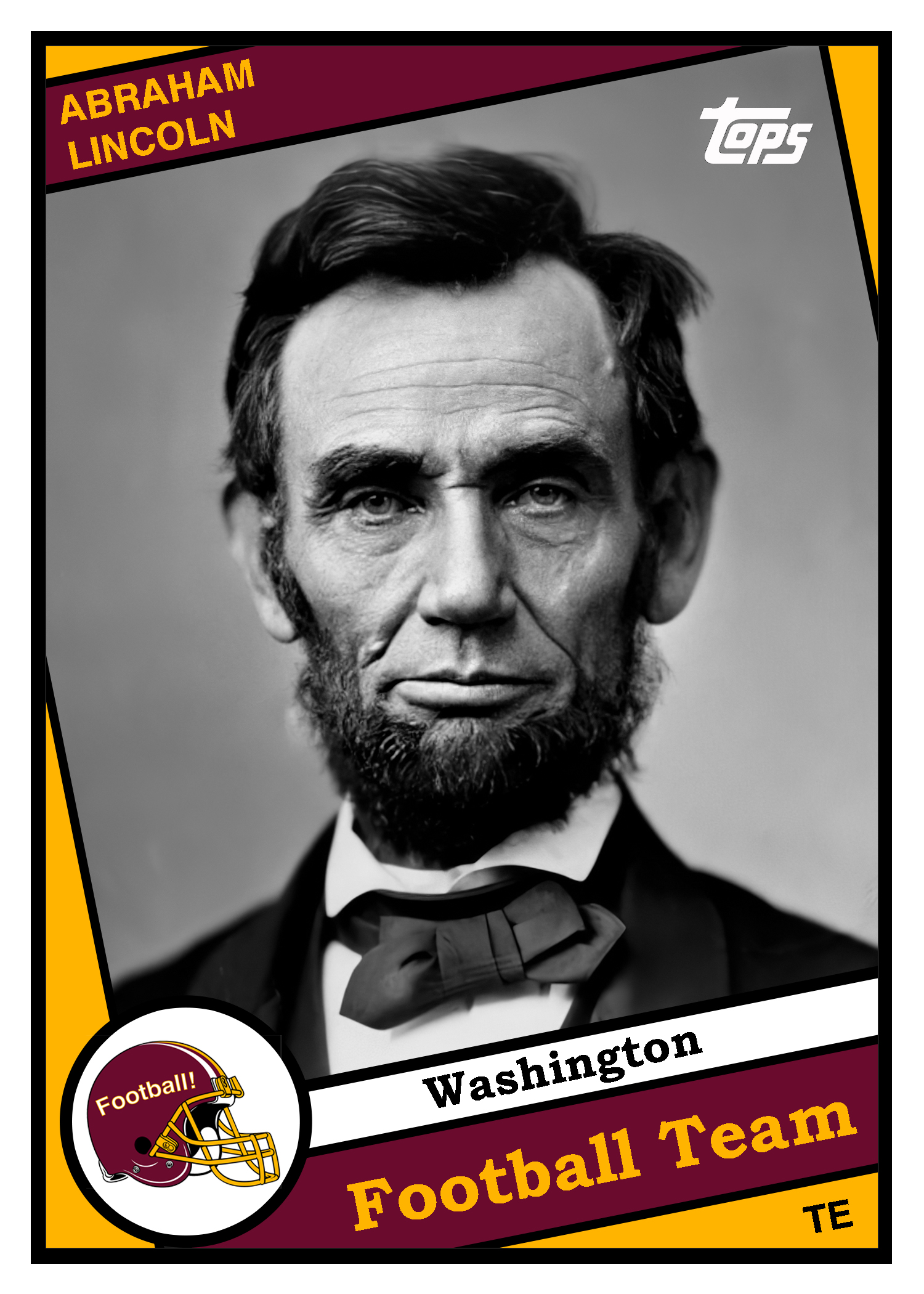 The tallest President (6'4") in our nation's history is an obvious choice at the tight end position. Lincoln will be a nightmare matchup for smaller linebackers, and should become one of Washington's favorite redzone targets. I worry a bit about how he may fare in the running game, as his slender frame could present a challenge in his blocking duties. Hopefully he fills out over his first few seasons. 
Left Tackle: William Howard Taft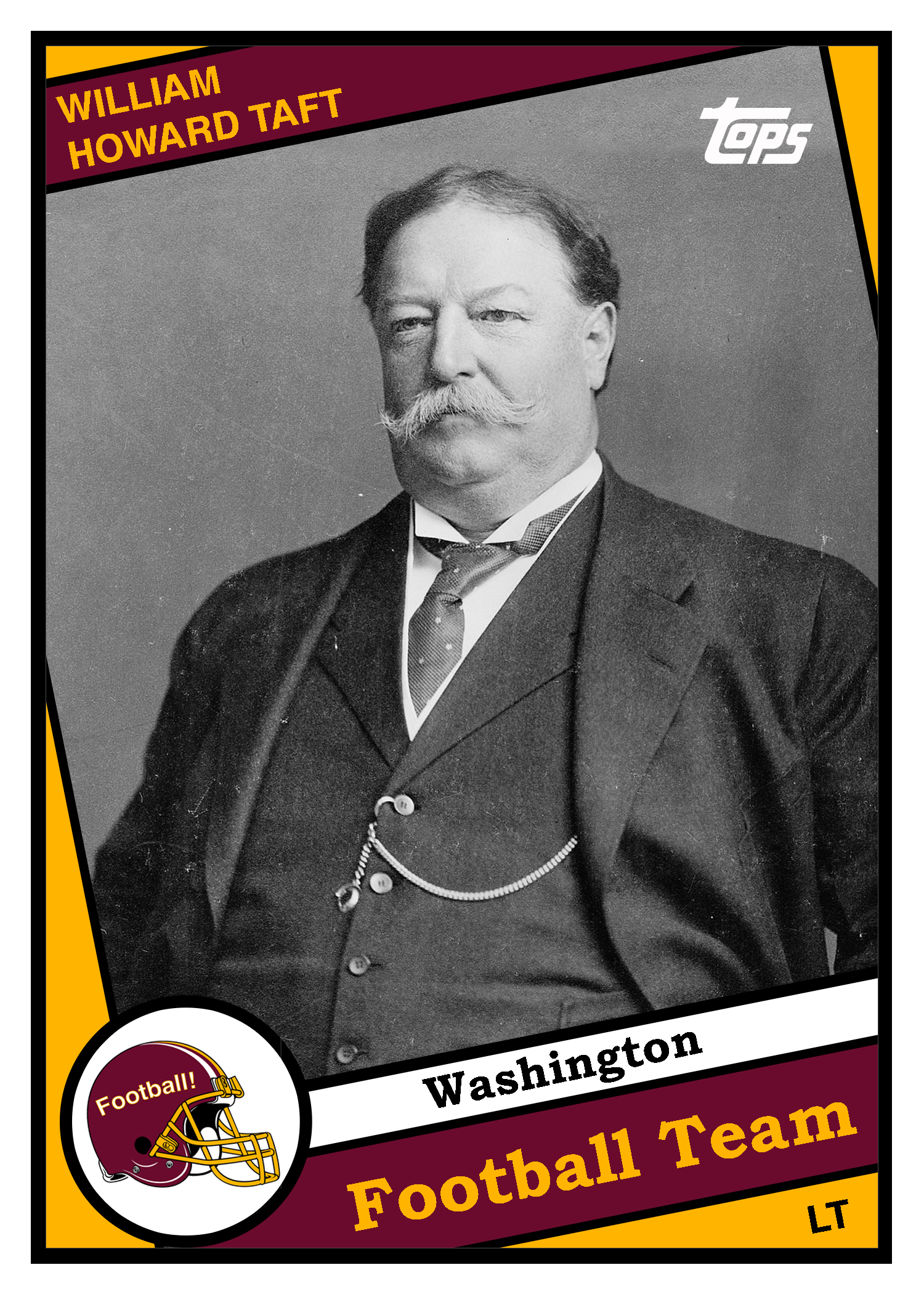 NFL tackles must be enormous and athletic. Taft certainly fills one requirement, but we'll have to live with his lack of mobility. At his heaviest, our 27th President weighed 340 lbs., so he won't be easy to move off the line. He'll be tasked with guarding Washington's blind side. 
Also, Taft may or may not have gotten stuck in the White House bathtub once. I'm not sure if that lends itself to any football related skill, but I thought you would want to know. 
Right Tackle: Grover Cleveland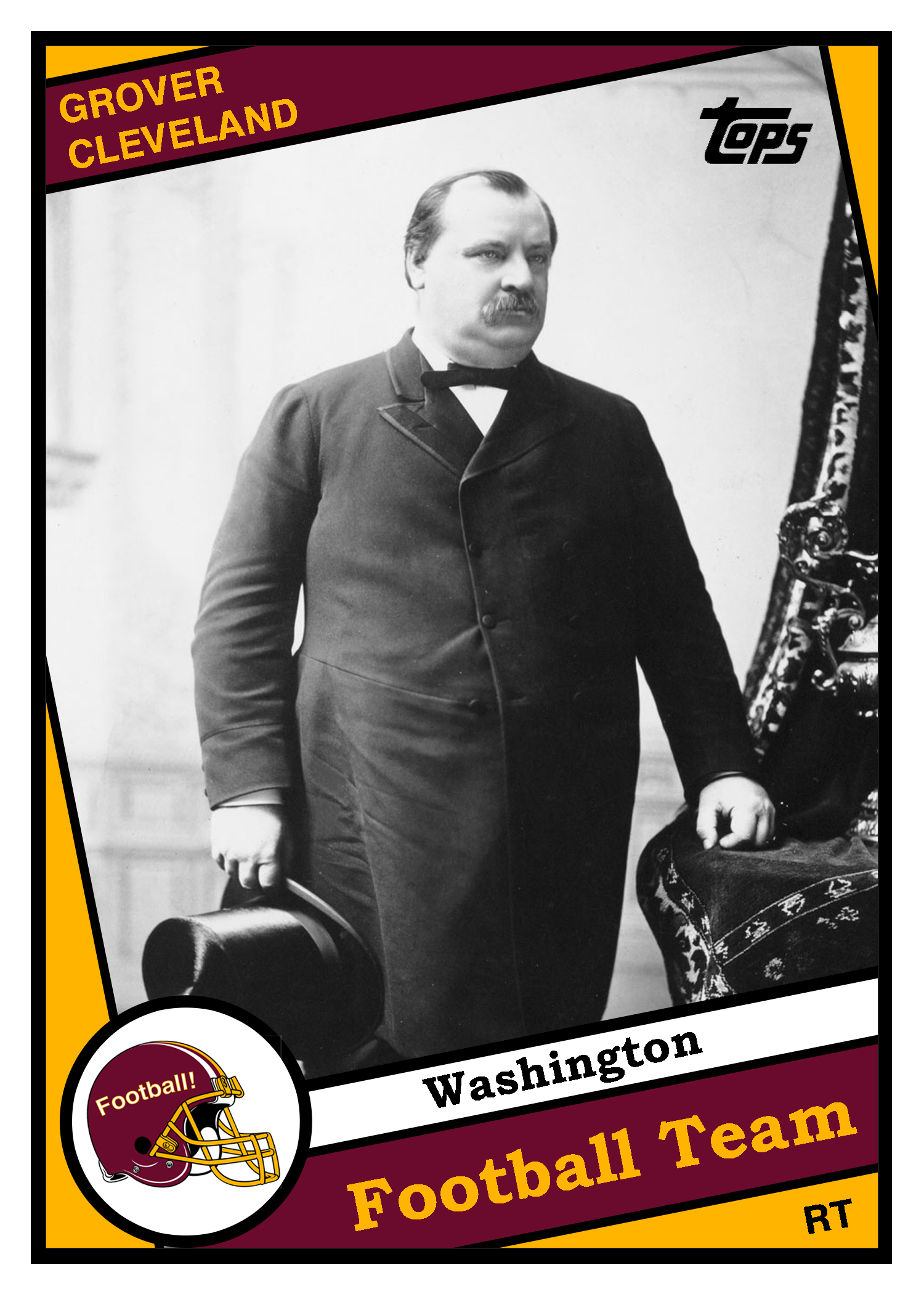 Our second heaviest President, Grover Cleveland, occupies our other tackle spot. Sorry buddy, it's not personal. 
Center: Gerald Ford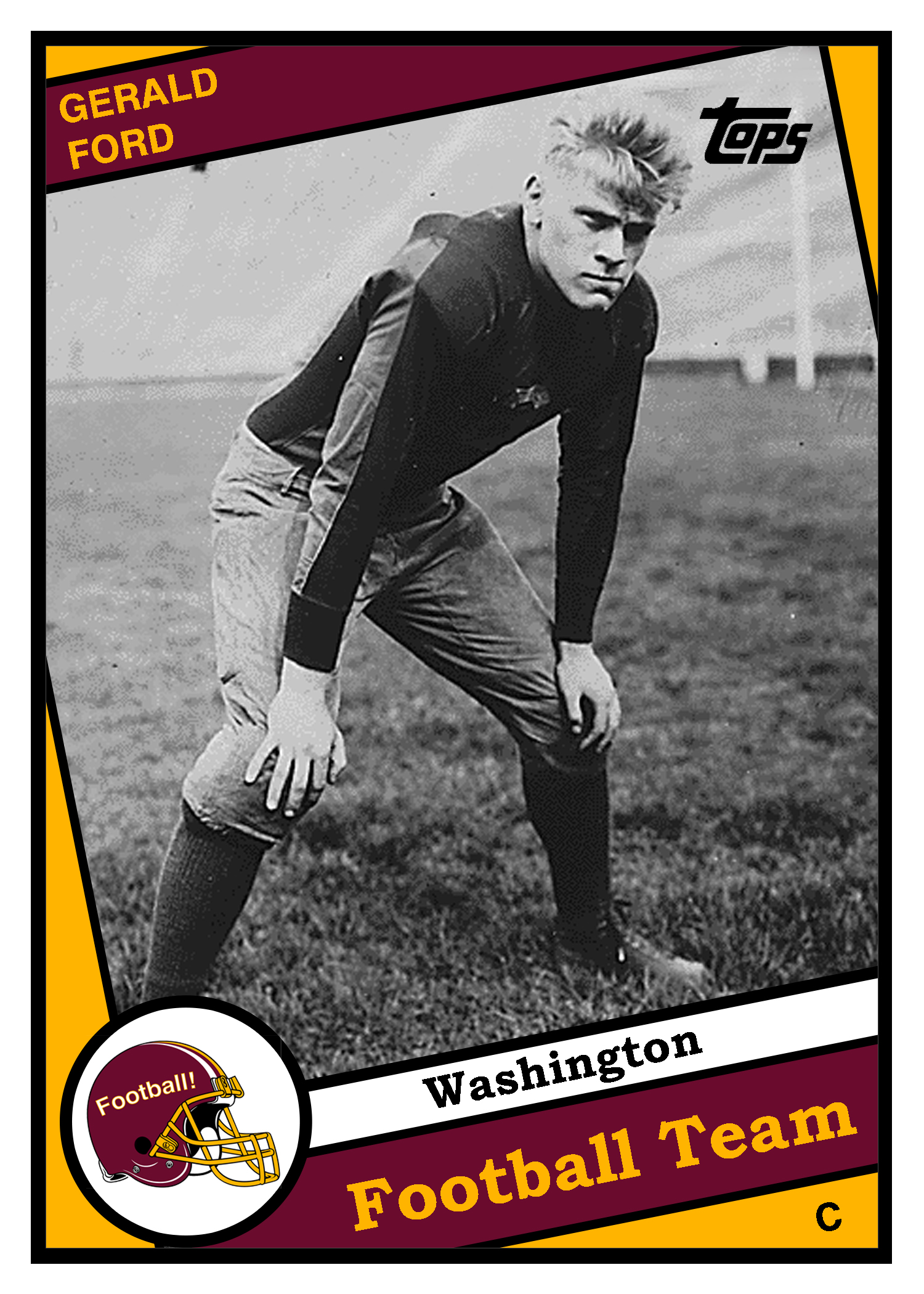 I had a heftier man in mind when initially conceiving this roster, but don't let his relatively small stature deceive you: Ford started at center for two undefeated Michigan Wolverines squads that captured the collegiate title in 1932 and '33. Ford was no slouch; he was awarded the team MVP in 1934 (a lofty achievement for an offensive lineman.) As the most accomplished football player to ever hold office, Gerald is likely the best player on our team. 
Left Guard: Millard Fillmore
Right Guard: Chester Alan Arthur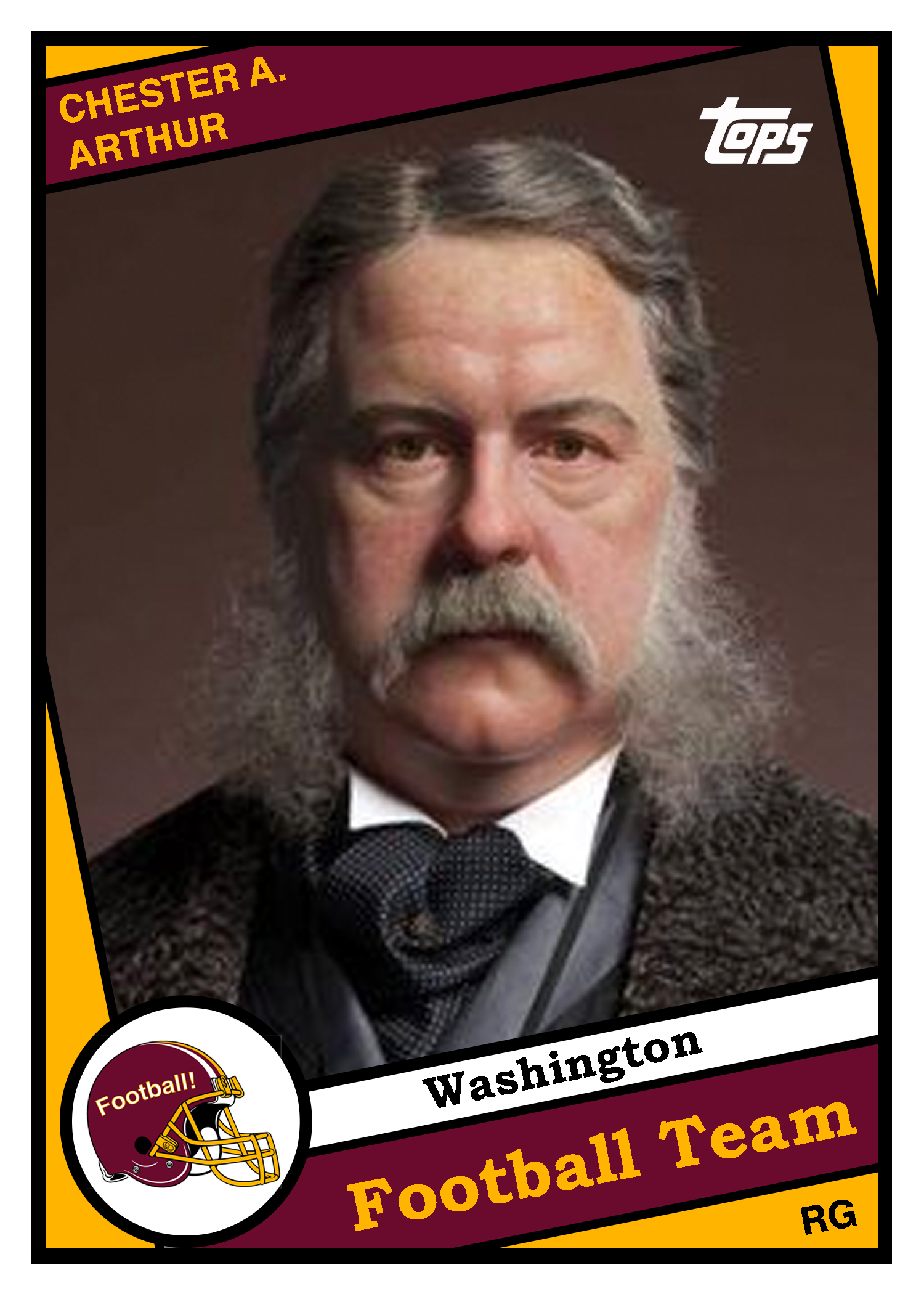 If you forget that your interior offensive linemen are there, then they're doing a good job. For this reason, our guard positions will be filled by two presidents you have probably never heard of. 
The Defense
Left End: Theodore Roosevelt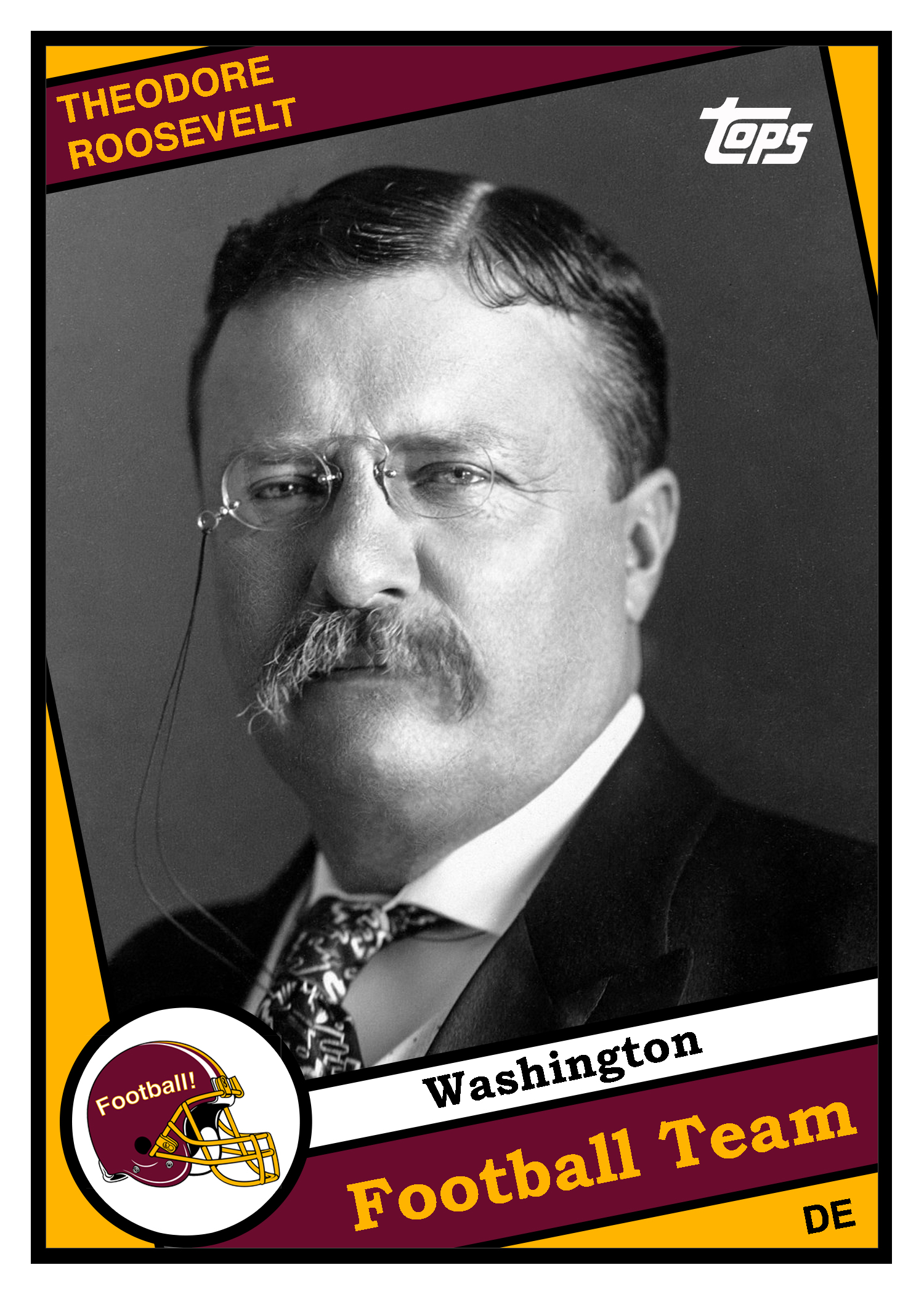 I'm excited to see what Roosevelt can do to harass opposing quarterbacks. He's got some size to him (237 lbs.) and is, by his own decree, "strong as a bull moose." He wasn't stretching the truth much either; once, while giving a speech, some dude shot Teddy right in the chest. You and I would probably seek medical attention after an incident like this, but not Teddy. Undettered, he elected to finish his speech. This is great for our football team. Every club could use a pass rusher with a high motor. 
Right End: Zachary Taylor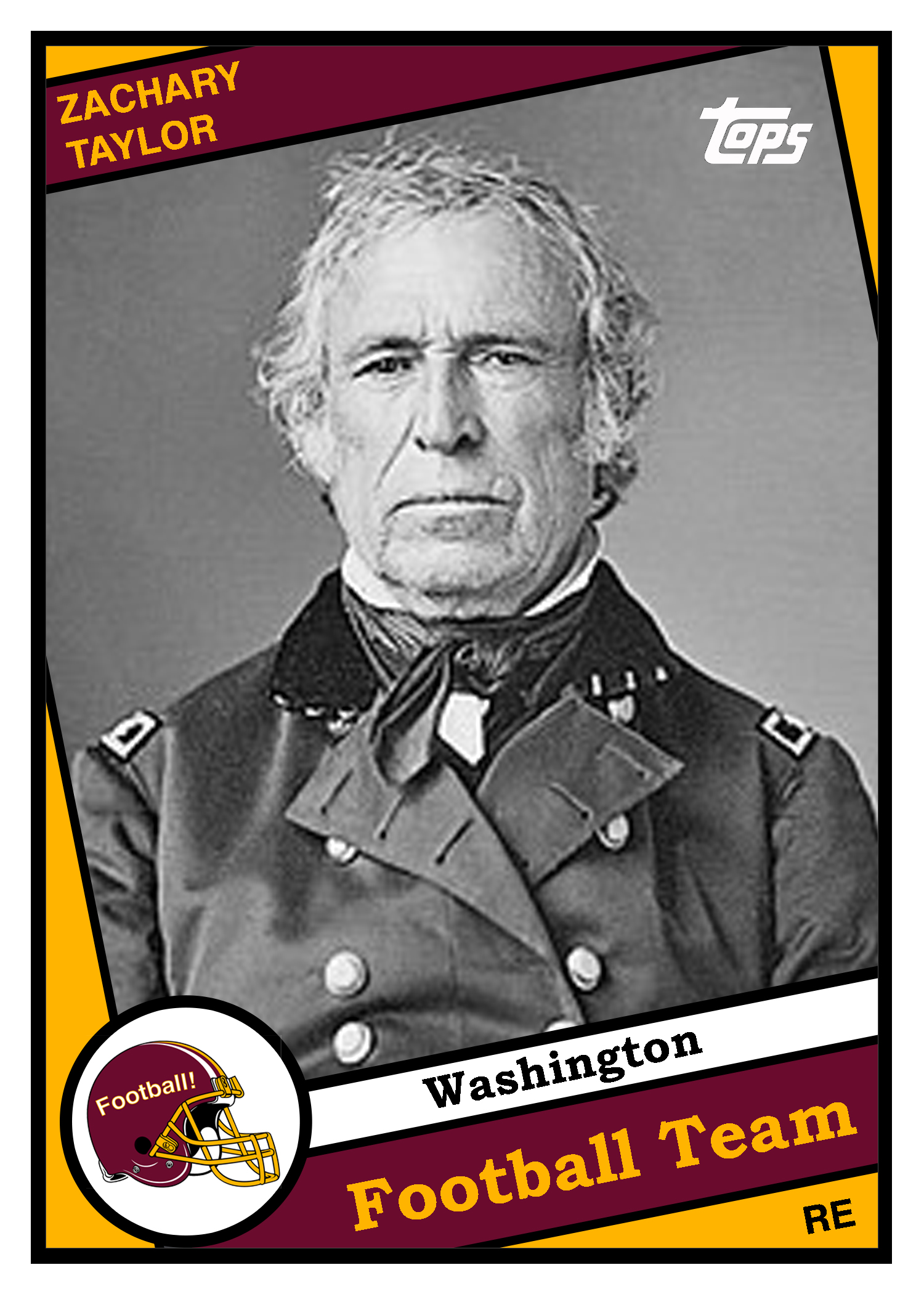 Our man Zachary was selected for this position due to a singular variable: he is big. 
Defensive Tackle: William McKinley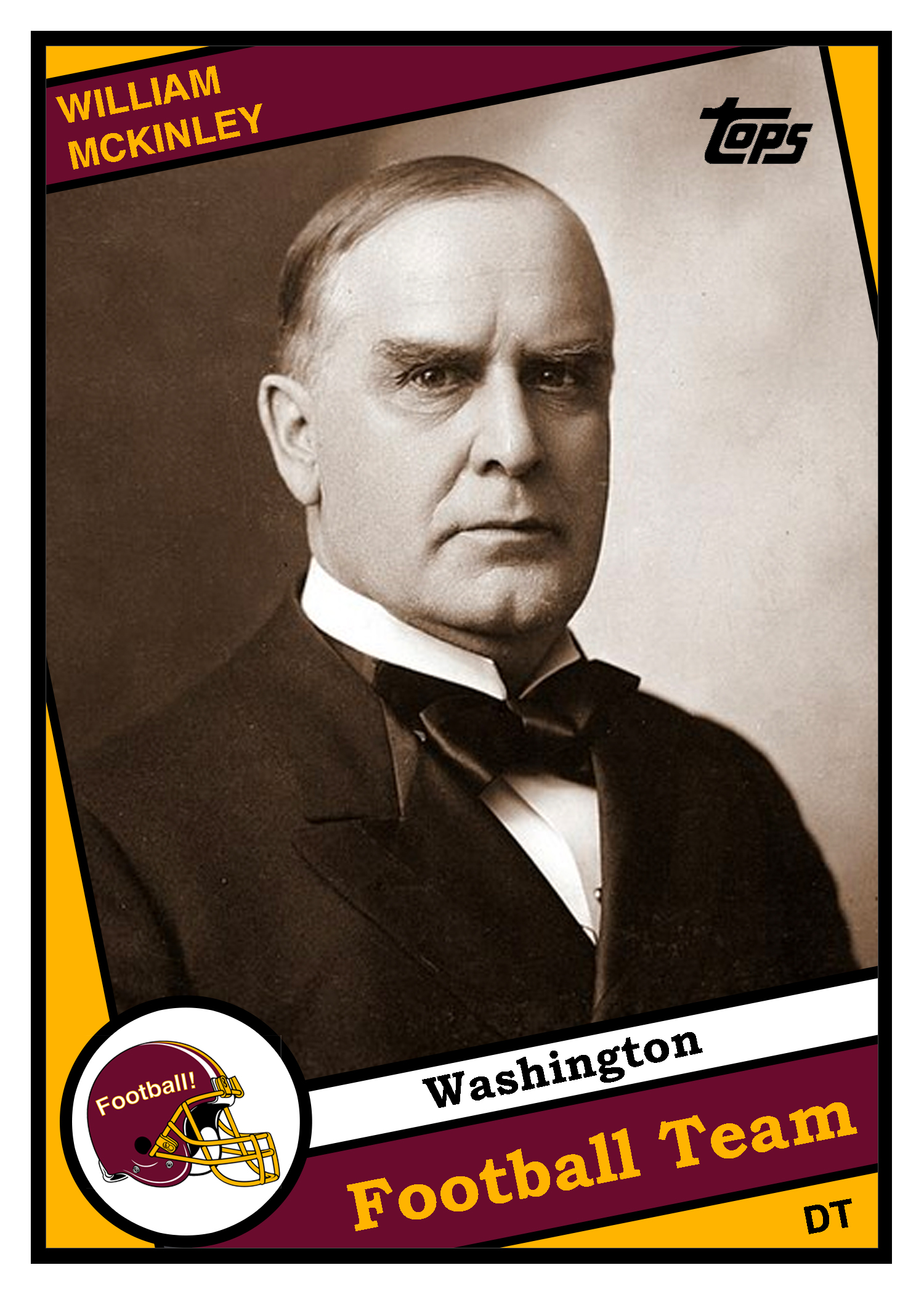 William is also big. 
Defensive Tackle: Grover Cleveland, again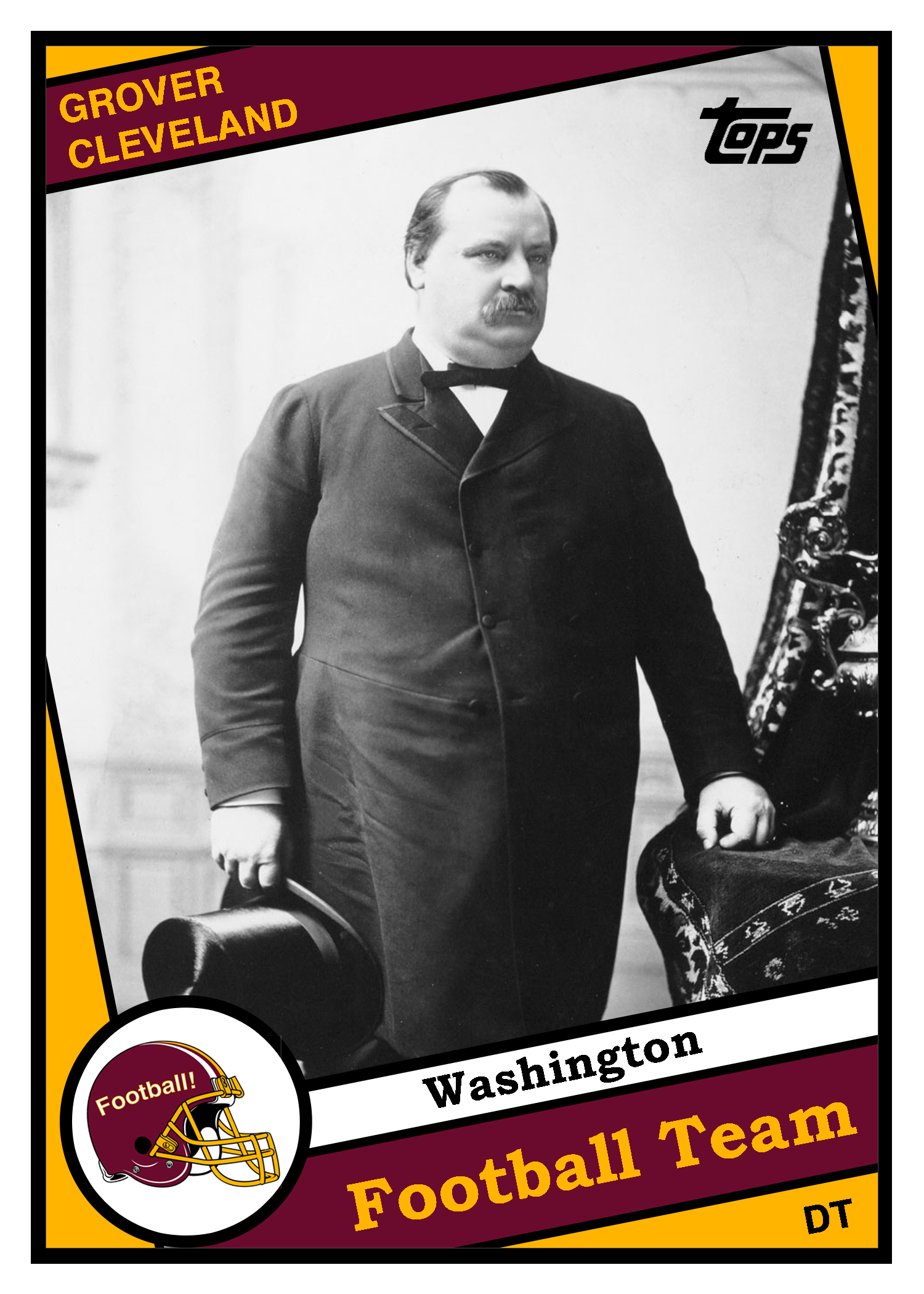 Grover Cleveland served two non-consecutive terms as POTUS, with Benjamin Harrison occupying the interval. He's the only President ever to do this. Apparently it is official government policy to refer to Cleveland as both the 22nd and 24th President, despite him being, last I checked, one person and not two. As a result of this, I have no qualms about him taking up two roster spots on our squad. If the US government can do it, so can I. Grover Cleveland, last of the 60-Minute Men. 
Middle Linebacker: Richard Nixon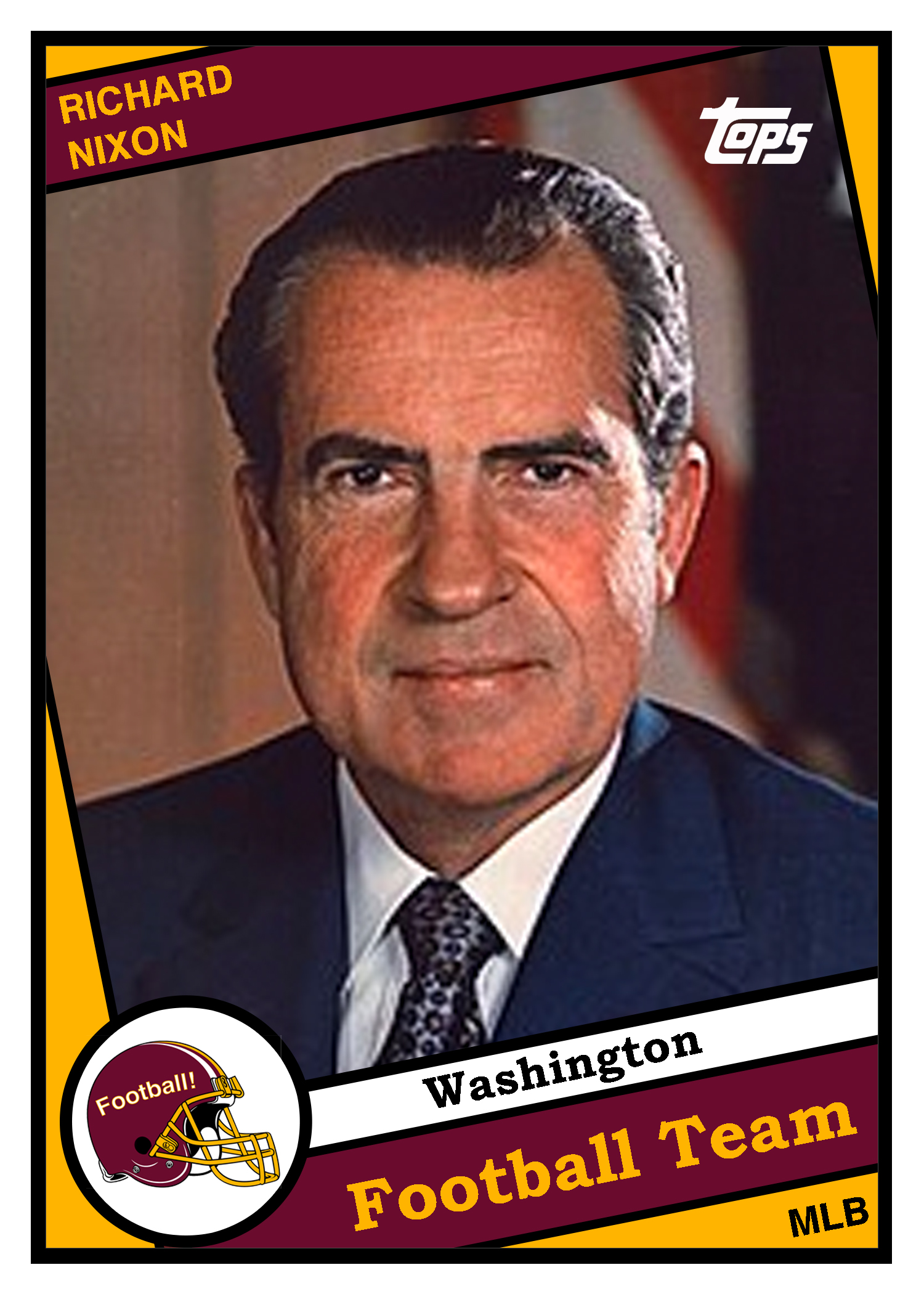 Call me old-fashioned, but I like a MLB with some grit. Think Chuck Bednarik, Ray Nitschke, Bill Romanowski. "Tricky Dick" is a crafty backer with a nose for the ball, and can detect opponents' plays with uncanny accuracy. With Nixon lying in wait, opponents will be scared to throw over the middle. 
Note: Nixon has been suspended for the entirety of the 2020 season.
Outside Linebacker: Lyndon Johnson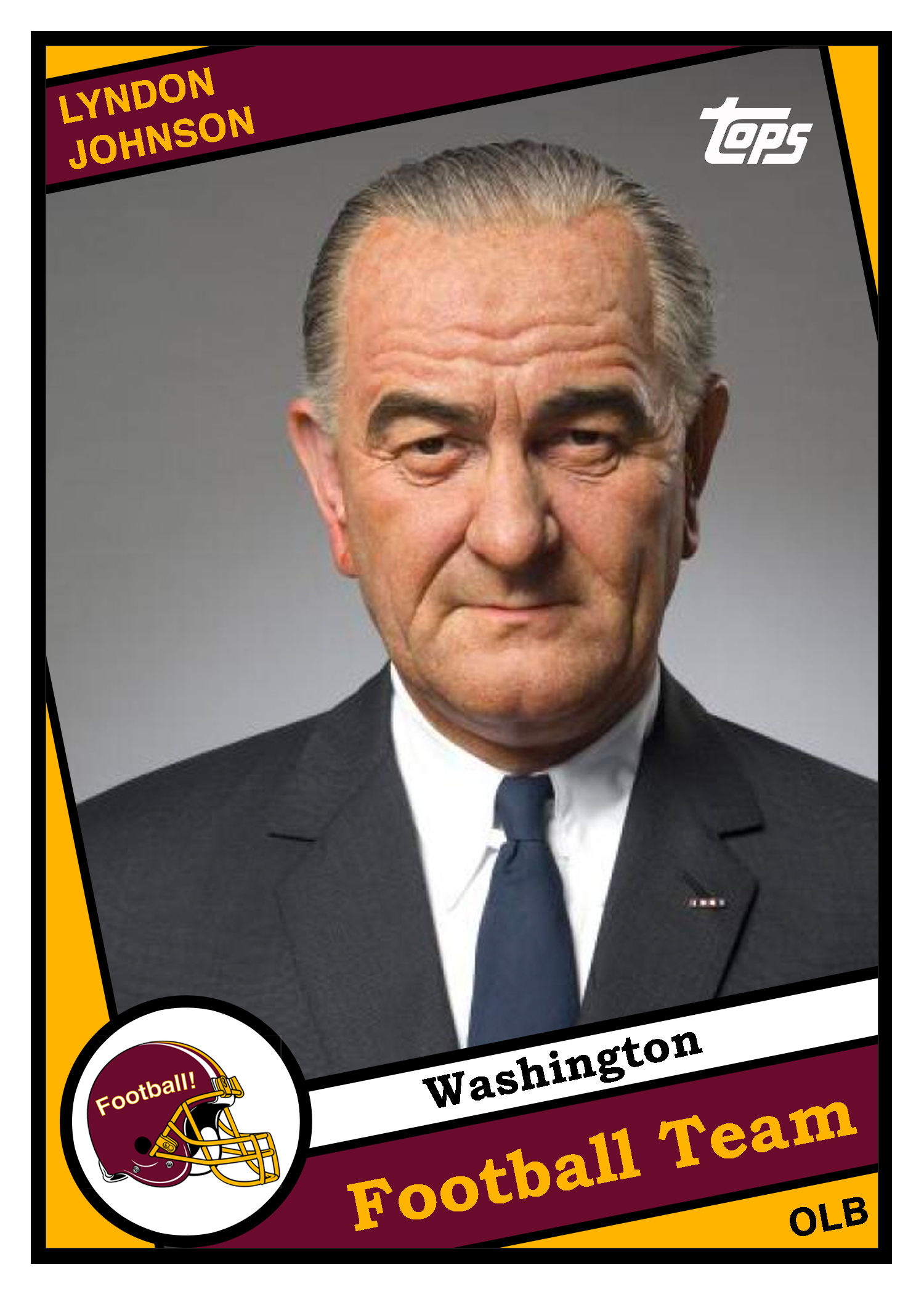 I briefly considered Franklin Delano Roosevelt for this spot, but his polio, I fear, would greatly hamper his sideline-to-sideline quickness. Instead, I went with Johnson. LBJ has great size for the position (6'3"), but I worry about his coverage skills. I just can't see him holding up against NFL tight ends like Travis Kelce. I doubt he'll ever be a true three-down backer, but there's a place in the NFL for guys who are stout against the run but liabilities against the pass. He's our Kiko Alonso. 
Outside Linebacker: Ronald Reagan
One thing that is becoming clear as we progress is that the sort of people who run for President and the sort that excel in athletic competition don't exactly have much overlap. Granted, for the majority of our country's history, folks were too busy trying not to die of tuberculosis to care about football. Regardless, at this point in our list, we have to dig deep. 
Let's see, did Ronald Reagan ever play football?

He played in high school, you say? Congratulations kid, you're now a starting NFL linebacker. 
Cornerback: Barack Obama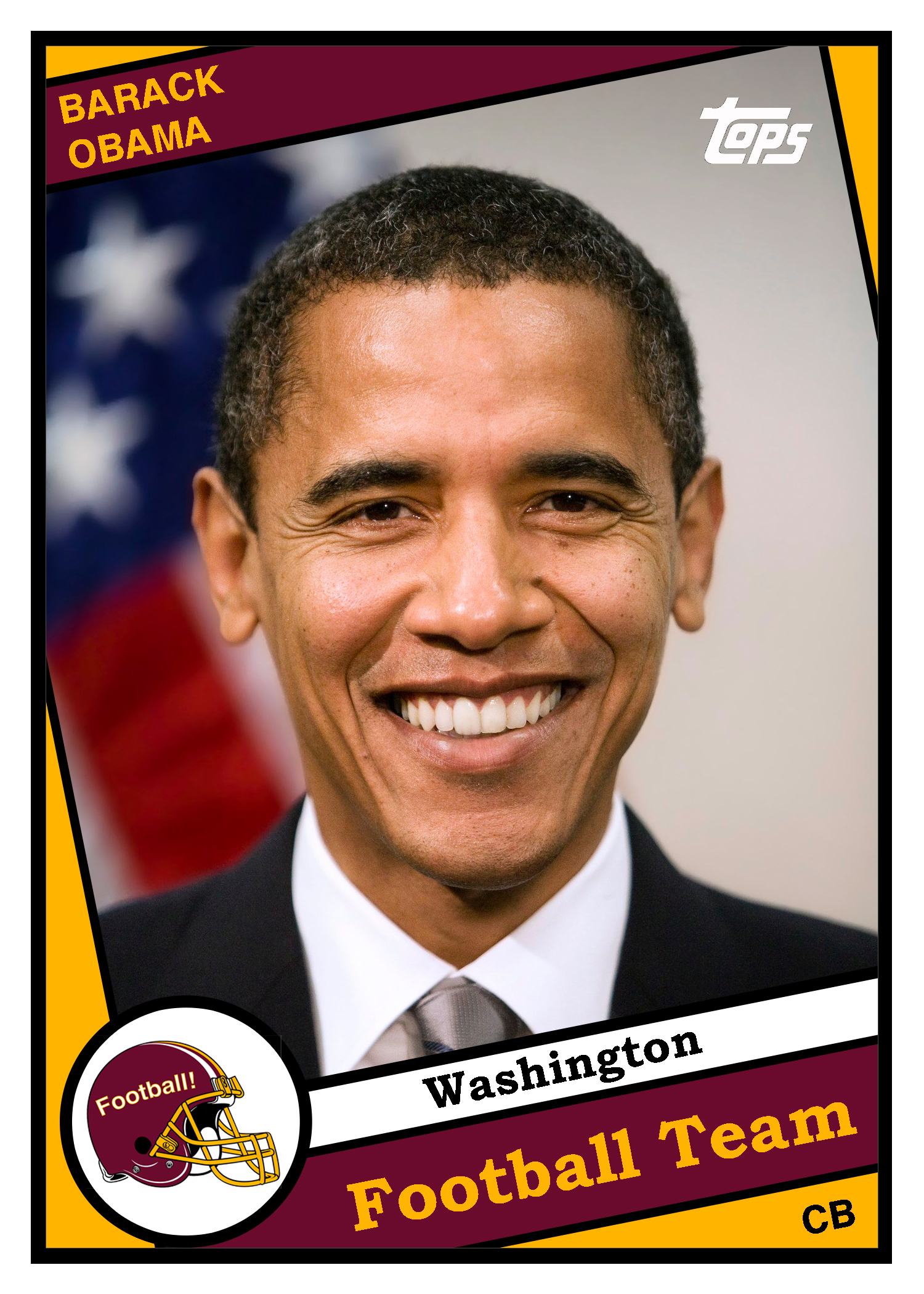 Obama possesses ideal height (6'1") and weight (180 lbs.) for the position, and if the pickup basketball games he played while in office are any indication, he's a solid all-around athlete. He is far and away the best player in our secondary, but I still worry about how he'll fare against NFC East standouts like Alshon Jeffery. 
Cornerback: John F. Kennedy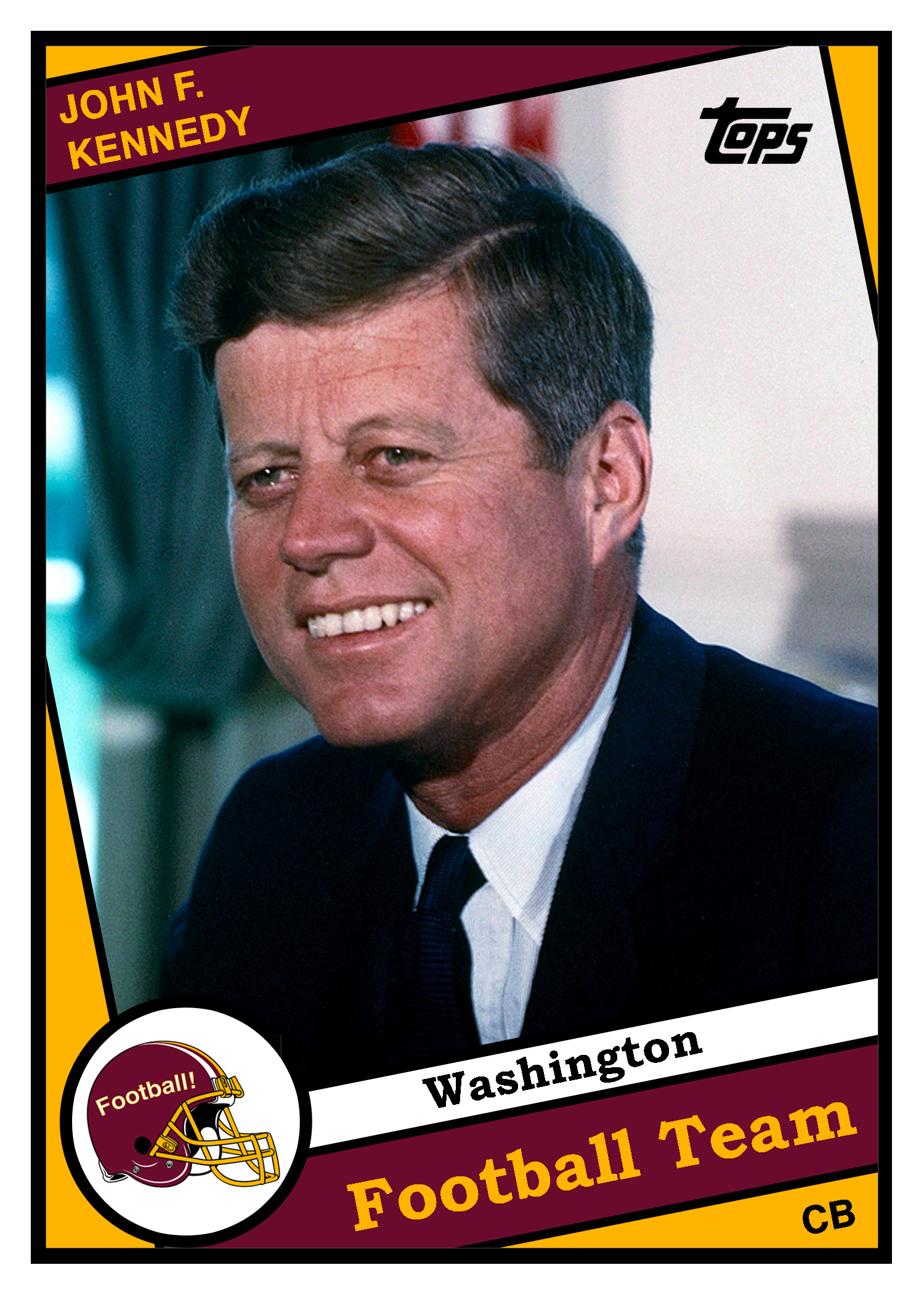 Kennedy is similarly well-built for the position, and the Boston native should fit right in opposite Obama. May struggle against Dallas. 
Strong Safety: Andrew Jackson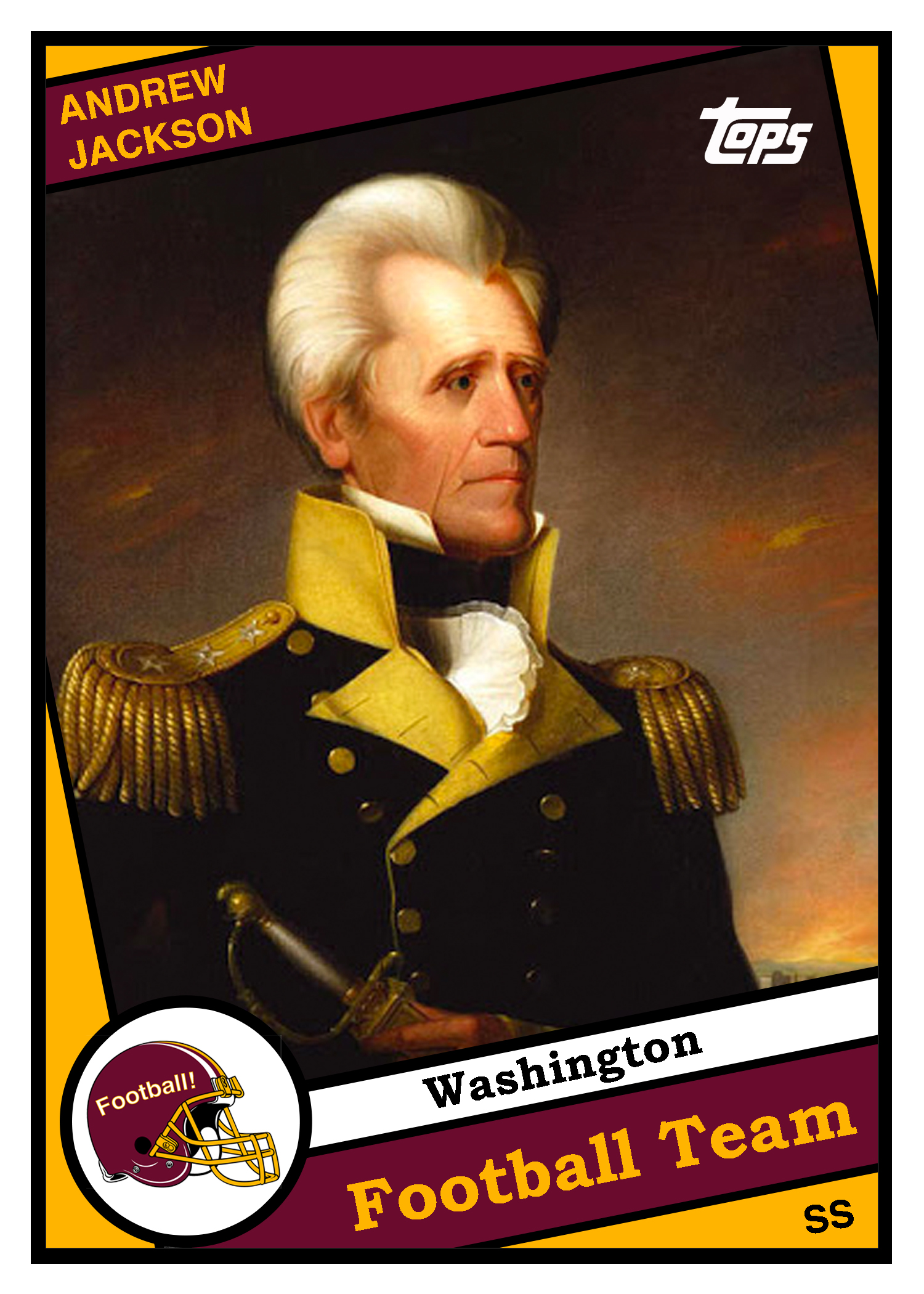 At safety, we need an enforcer. Andrew Jackson fits the bill perfectly, as he's probably the most vicious President we've ever had. He fought over 100 duels in his lifetime, and I'm going to go on a bit of a tangent to discuss one in particular. 
Once, Jackson challenged a dude named Charles Dickinson to an especially dangerous match; Dickinson was known all over the state of Tennessee as a crack shot. Jackson elected for an unorthodox strategy in this fight: he decided not to fire his gun.
Now, I have never fought a duel, and I'm not exactly an authority on the art of killing folks. But I can say with reasonable certainty that it's pretty hard to hurt someone with a ranged weapon without firing it. 
Jackson's plan wasn't complete lunacy. He did plan to fire the gun eventually. He just wanted to let Dickinson shoot first, in hopes that his haste might spoil his aim. Again, just to reiterate, the goal of a duel is to kill your opponent before they kill you. Jackson's plan, from this outsider's perspective, was to throw the match. 
As the story goes, Dickinson turned, fired, and buried a bullet square in Jackson's chest. 
But here's the crazy part: Jackson survived. He then took slow, careful aim, and shot Dickinson in the head, killing him. 
Andrew Jackson was a man who did not fear death. If we have a headhunter on our team, it's him. He'll probably rack up concussions like Russell Westbrook racks up triple-doubles and be suspended by Week 3. 
Free Safety: George W. Bush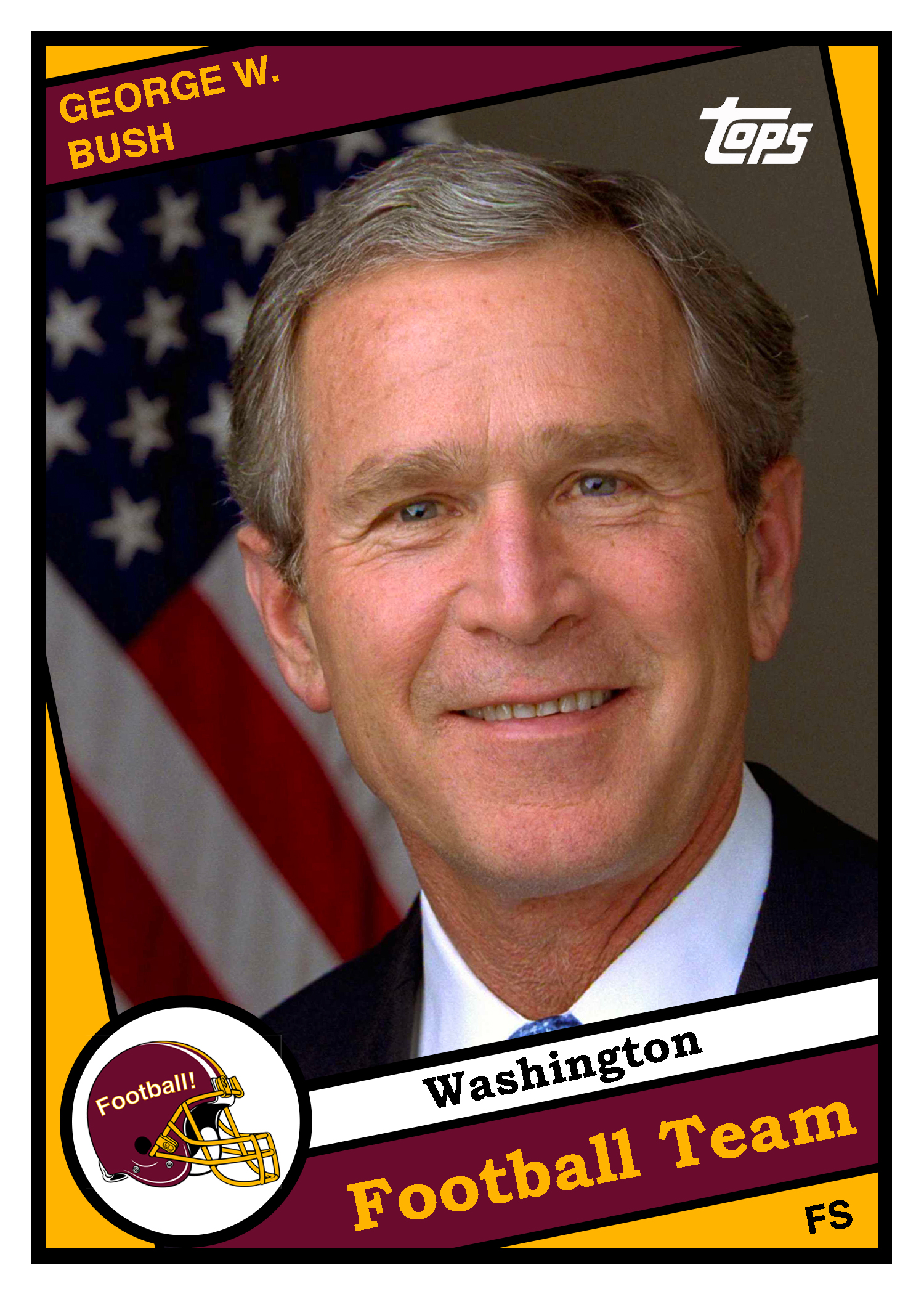 I'm rounding out our defense with Dubya, who, despite never playing organized football, nevertheless is probably not very good at it. He's shown some athletic ability in the past, and while I'm unsure how a ceremonial first pitch translates to the free safety position, maybe Bush Jr.'s got a bit of a clutch gene. We're prioritizing potential over performance here, folks. 
Special Teams
Placekicker: Herbert Hoover
To fill this position, I completed the following steps: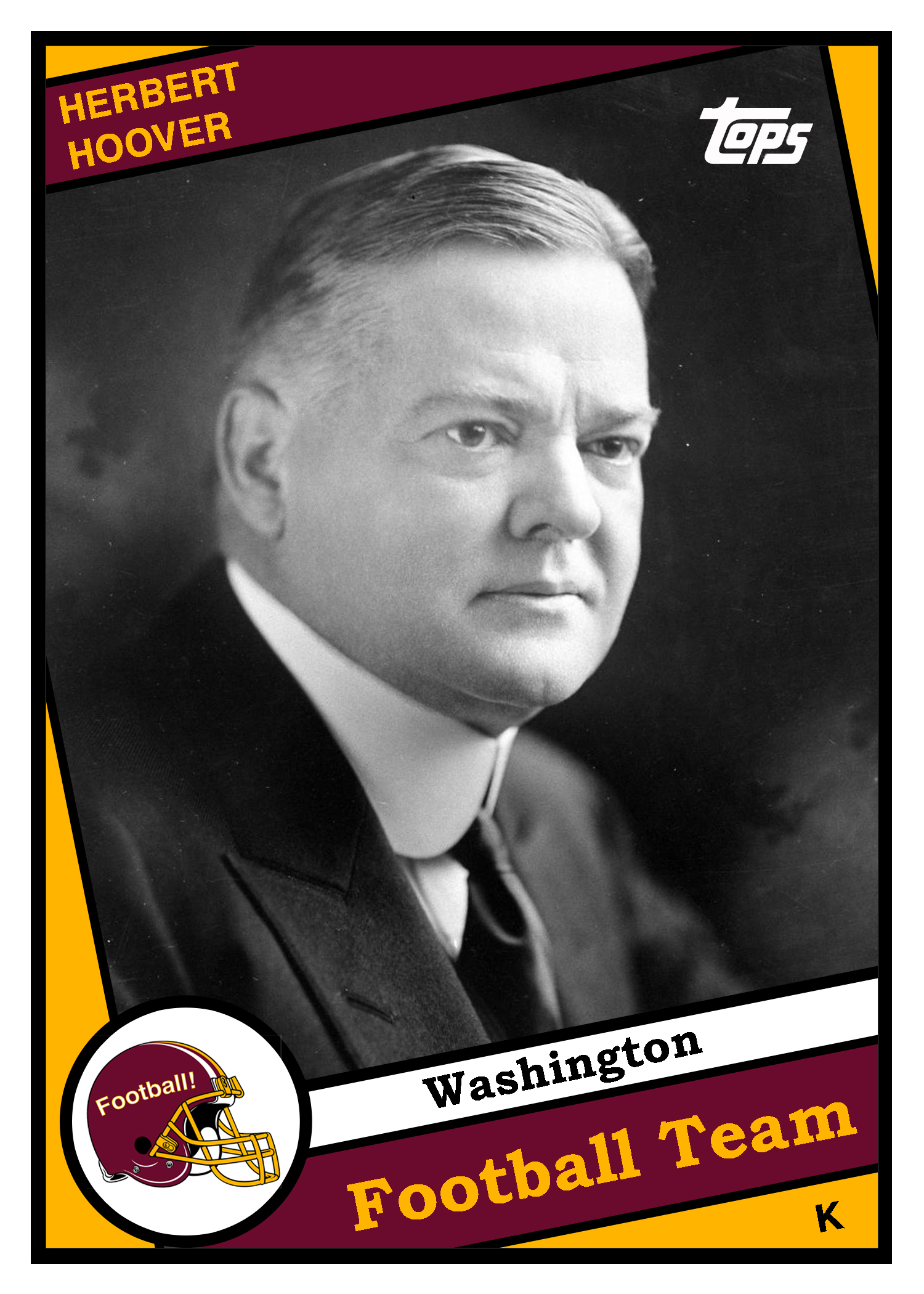 Punter: Woodrow Wilson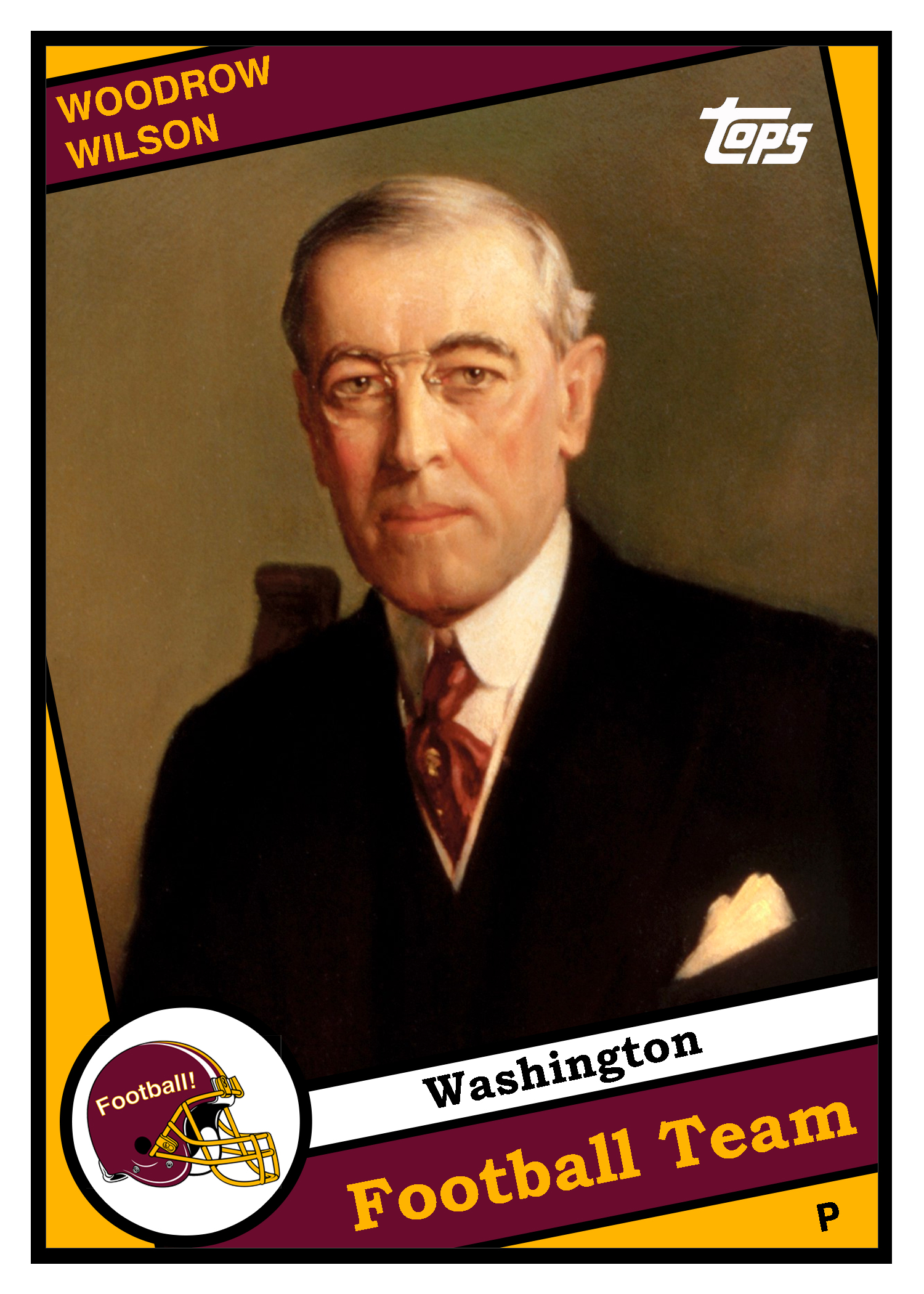 I thought of selecting William Henry Harrison for this role initially, with the goal being to make some comparison between his brief, ill-fated presidency and the amount of time our punter will spend on the field. However, upon review of our options at the skill positions, I deemed that such a comparison would be inaccurate, as our punter will be on the field constantly. 
Instead I opted for Wilson, whose slender frame lends itself to punting more than any other position. He's also the only president with a doctoral degree. I don't know how that will help him pin the opposing offense deep in their own end, but he's smart, I'll leave that up to him. 
Long Snapper: Martin Van Buren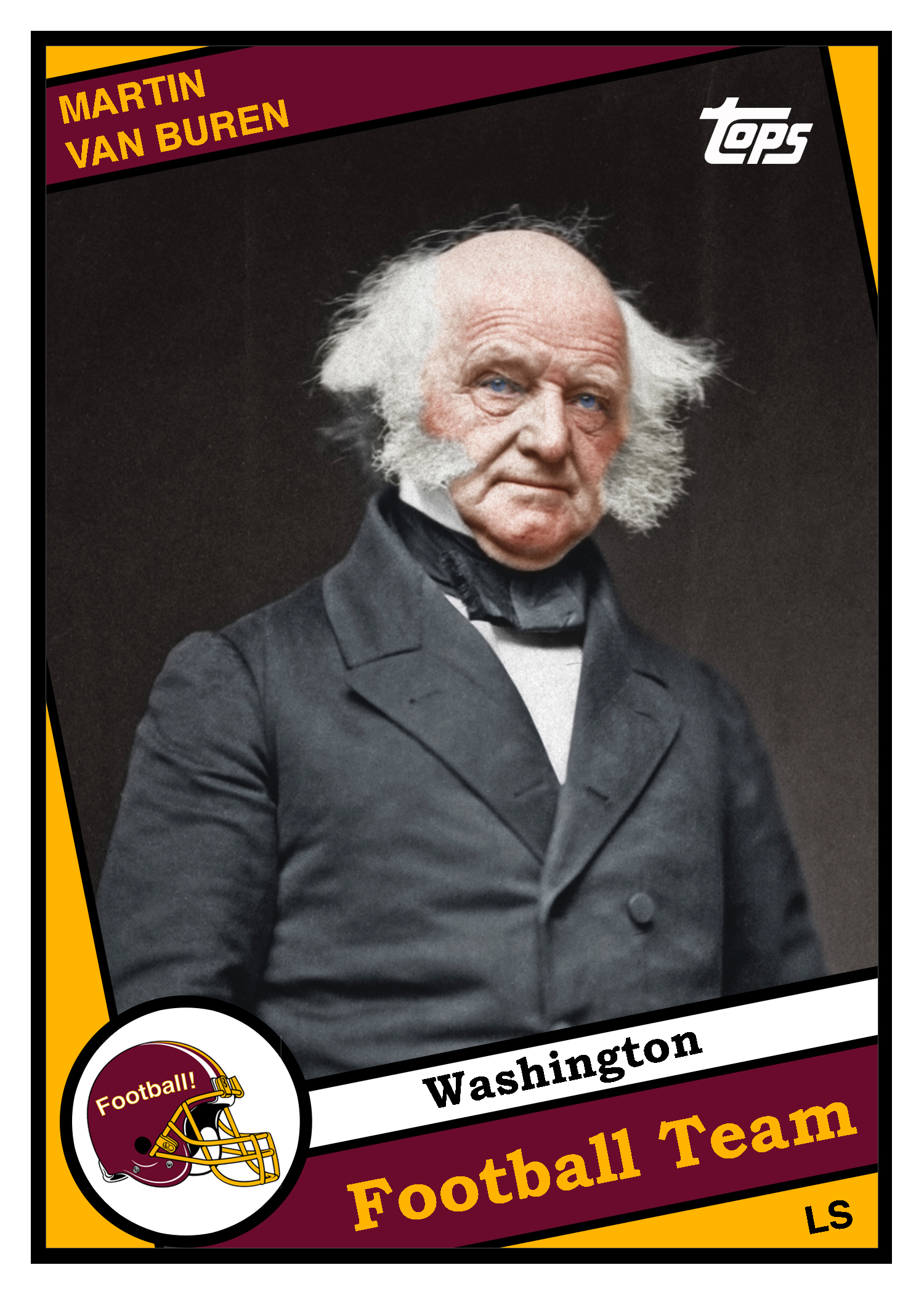 Roommate Liam: hey whatcha workin' on
Me: oh this dumb article where I make a football team with US Presidents
Liam: lol you should make Martin Van Buren the long snapper
Me: lol 
Want to read more from Will Klumpenhower? I hope not, he hasn't written any other articles yet. You can follow him on Twitter though: https://twitter.com/wklumpenhower